Music Reviews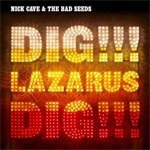 Nick Cave & the Bad Seeds Dig, Lazarus, Dig!!!
(Mute / Anti)

Nick Cave has always been an interesting fellow. Content to plough his own furrow, he does so with diligence, with exploration and with great talent. Surrounding himself with his Bad Seeds, a mix-and-match of diverse styles and personalities, he has, unbelievably, churned out 14 studio albums in the 25 years since the messy dissolution of The Birthday Party. And Cave has remained a singular artiste in all those years, rarely resting on his laurels, and regularly defying expectations.
This much you know. Dig, Lazarus, Dig!!! sees the second release (or third depending on which way you look at it) studio release involving the current line-up of Bad Seeds – a fact important to bear in mind. Where Cave is obviously the driving force, and a compelling presence, yet his music often betrays an insecurity which is stopped up by the equally fascinating musicians around him. The Birthday Party were fuelled not only by Cave's terrifying howl but by Rowland S Howard's feedback drenched guitar – the pair's fractious relationship provided the backdrop to the tense and scary sounds the band created. When the Bad Seeds formed, Cave's muse became Blixa Bargeld of Einstürzende Neubaten, who remained with Cave for almost ten years, providing the noise for Cave's lyrical explorations. His departure in 2003 accompanied Cave's shift away from apocalyptic noise towards tender, if still terrifying, calmer songs, and Cave's new inspiration came from the multi-talented Warren Ellis, with whom he has collaborated for several years now. The Dirty Three 'frontman' brought with him his atmospheric arrangement skills and Cave's first album post-Blixa was the triumphant double release – the bawdy gospel rock'n'roll of Abbatoir Blues twinned with the pastoral melodies and bouzouki-led tragedies of The Lyre Of Orpheus.
However, any fears that the Bad Seeds had gone to seed and that Cave is calming down in his old age are allayed by Dig, Lazarus, Dig!!!, a diverse and fascinating collection that is, for the most part, every bit as good as any other part of Cave's formidable oeuvre. The opening title track is a bluesy psych number reminiscent of Lou Reed's narratives on the seedier sides of life in New York. Loosely dedicated to Larry 'Ratso' Sloman, it winds together the bizarre commentary style found on The Lyre Of Orpheus with the organ-driven, Nuggets-y garage punk. It's repetitive riff grooves its way into one's consciousness even without trying, and though the comparatively bouncy tempo will throw off those expecting more gothic ballads, it's every inch a Nick Cave classic.
The track is complemented by a diverse range of other songs, from the building psychosis of We Call Upon The Author To Explain or the No More Shall We Part-esque Hold On To Yourself to the call and response of Lie Down Here And Be My Girl. The lyrics are classic Cave, at once obtuse and grandiose, yet constantly avoiding expectations and pigeonholes. The soundtrack ranges from grungy power chords to avant-garde pizzicato, all with Cave's inimitable, soaring band leader's voice flying over the top.
Dig, Lazarus, Dig!!! is vintage Nick Cave, and easily the match of anything that he's produced in the last decade. It's a vital record, one that's Nick Cave through and through, and whether he's exploring his garage roots or his spooky, narrative tendencies it's at all points a triumph.
1 May, 2008 - 22:38 — Simon Briercliffe