Music Reviews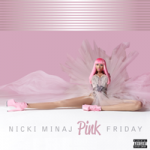 Nicki Minaj Pink Friday
(Young Money)

Question: who is your favorite female MC?
Go ahead. I'll wait.
Are you having Christmas at your parents' house this year? How's your end-of-the-year-lists going, btw.
Got an answer yet?
Of course not; because your most recent choices were either in jail and Dancing with the Stars or making Barbershop 3: Barb Harder. So, it would seem we're all stuck with up-and-comer Nicki Minaj. After a string of official (and not-so-official) mixtapes, Barbie makes her major label debut with Pink Friday. In the course of the record, Minaj spits, sings, and sparkles down her own path, a trail that gives us plenty of reasons to adorn her with our hopes for the female in hip-hop and a journey to supremacy that's still got many miles to go.
There's no denying the schizophrenic nature of Minaj's music. She understands the need for duality and her role in hip-hop, one that, whether we all like it or not, means she will be typecast as gushy, overly emotional female who has to routinely show a tough, more raw side to keep up with the boys. Album opener I'm The Best is a cocky, self-assured rant about the jet-setting ways of Ms. Minaj. It's as vulgar as it is cool, which is saying a lot. She shows her sensitive side on Your Love; thanks to a sample from Annie Lennox's No More I Love You's, a sense of forlorn is in the air as Minaj raps about past lives and roleplay involving an Oedipus complex. It's adorable and eccentric and the kind of hit Minaj should be pumping out, a number where the thug and the princess of her psyche work together swimmingly. The collaboration with Eminem, Roman's Revenge, is yet another such effort. There is nothing normal in this entire track; Swizz Beatz's production is ripped from a bad Dutch horror movie soundtrack, while Minaj herself is batshit crazy, a manic mess of one-liners and ever-changing vocal inflections. Even Em, who in his own recent releases has found serenity, goes off his rocker with some of his most cutthroat, violent, and disturbing rhymes in recent years. Good thing Minaj's crazy is communicable.
For whatever reason, though, the voices in her own head aren't strong enough to out-sway input from others, leading to a few unimpressive moments in the LP. Regardless of what form it may take, one of Minaj's most endearing qualities is, despite the funny faces, the fact that she's an MC with her heart on her sleeve and a sad story to tell. The only problem, though, is that she expresses her heartache and personal issues in tracks like Fly, featuring Rihanna, and Save Me. My issues have little to do with production or sonics (in fact, Save Me has a haunting electro beat); rather, despite her feminine magic, the harder edge of the aforementioned numbers and even the collabo with Kanye West (a visceral song called Blazin') are more up Minaj's alley. The ballad-y nature of the former is missing out on her quirks and eccentricities; the latter suffers because, despite her pleasant tones, Minaj is no singer and is truly talented when it comes to throwing down with one-of-a-kind wordplay. Even songs like Right Thru Me and Moment 4 Life, though not as mesmerizing as Your Love, are more listenable thanks to Minaj balancing the track with songbird tendencies and a destructive blast of self-expressive rhymes. It isn't a case that these songs are unimpressive because of their sentimentality. However, as a female fury, a goddess of the taken-advantage-of, low-key, saccharine cries of pain deserve to be torn to pieces by the vibrant, in-your-face cuts that Minaj swings like a Celtic warrior-queen.
As far as a debut goes, Pink Friday perhaps isn't what everyone had hoped for. However, with plenty of head-nod-ability, great emotion, varied and inventive rhymes and wordplay, not to mention enough attitude to shame any Frank Miller-created heroine, Nicki Minaj is the answer to the question.
5 December, 2010 - 10:33 — Chris Coplan