Music Reviews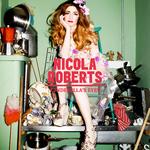 Nicola Roberts Cinderella's Eyes
(Polydor)
Buy it from Insound

If there's a moral to be taken away from Cinderella's Eyes, the solo debut from Girls Aloud's Nicola Roberts, it's that the business of pop is cruel and unpredictable. But, while Roberts did intend the album to be something of a confessional about her time in the Guinness-certified "Most successful reality TV group", this outcome is, one suspects, not exactly what she had in mind. Instead, a far more damning assessment of the industry can be found in the fact that where her bandmate Cheryl Cole lazily hooked up with continuing blight on the charts/our ears will.i.am and ended up with one of the biggest records of that year, Roberts went to the trouble of tracking down some incredible production talent and has so far been rewarded with public indifference and something of a commercial disappointment. But not an artistic one as with it she's revealed herself to be the only real competition to Katy B for the title of pop album of the year.
It probably didn't help that most people's first experience of the album came from its lead single Beat Of My Drum, which takes a little effort to love. Based, like Beyonce's Run The World (Girls), around a perhaps slightly half-assed and cynical bit of beat recycling from producer Diplo, it still manages to be that rarest of things in this age of the disposable: a song that requires multiple listens to reveal itself. At first it seems brash and abrasive and has more than an whiff of novelty song about it, but on subsequent spins its vivaciousness and unfettered sense of joy come to the fore, revealing it to be a work of (deceptively) dumb pop done absolutely right.
Less excusable was the even more muted reception that met the follow up Lucky Day, which, while not quite so insanely, brilliantly unique, was an undeniably uplifting, and far more immediate, piece of electro-pop that raised the question of how its co-writers Dragonette had managed to come up with something so wonderful and why hadn't they hung onto to it for themselves? And while forthcoming third single Yo-Yo is inevitably not quite as good as either, it is again stuffed with enough hooks and good intentions to make it deserving of far more than the general indifference it will no doubt receive.
However, the real heart of Cinderella's Eyes comes after this opening run, as the album's later tracks see Roberts do the one thing that the slick-to-the-point-of-coldness Cole has never felt comfortable with (despite us knowing all about her life thanks to the tabloid press) and use her music as an attempt to expose her bruises and vulnerabilities. The title track might mix up its fairy tale metaphors but makes up for it with some genuine wit, such as the verse "Ginger bread/man he tried to seduce me/Off his head/I'm allergic to dairy" (no, it's not the equal of a Morrissey or a Stephin Merritt, but it does reveal a sense of humour that seems to have been missing from the charts for far too long) and some hitherto unseen vocal gymnastics from Roberts. Probably of most interest to readers of this website though would be I, the first of two collaborations with Metronomy's Joseph Mount, which is, like Dragonette's effort, more interesting than anything he's conjured up for his own act. For one it's possibly the only pop song to ever be based around the sound of a Shamisen (although to be honest that's just an educated guess on my part, it might just be a guitar run through a serious amount of effects pedals, but it sounds great either way), it's also notable for featuring Roberts run through a list of her fears and anxieties, without it ever approaching the ludicrous territory of Des'ree's Life. Unfortunately though, their second collaboration, Fish Out Of Water, is arguably the closest the album comes to having a weak point – it's certainly not a disgrace but it sounds a little bit... flatulent.
Considering Roberts is still in her mid-twenties and has already made herself a successful career and a not particularly modest fortune, it would be a tall order for her album, no matter how good it was, to be a genuinely moving experience. And yet, the closing track Sticks + Stones throws such assumptions completely out the window. Covering the darker side of Roberts' life following her Popstars The Rivals win, the sheer amount of bile that she unveils, seemingly aimed at both her management and the press, is quite disarming as 'manufactured pop' doesn't have much experience of such raw, sincere emotion. For comparison, take a look at the album of the same name by recent X Factor contestant Cher Lloyd. Where Lloyd has perhaps been subjected to even more vilification than Roberts ever received, her response to it has been nothing more than a "haters gonna hate" defiance, which might be a healthier reaction than Roberts' decade-long grudges but 'healthy' is not the sort of thing that makes for interesting, insightful pop. Of course, the question does arise that Roberts might be over-exaggerating or even outright faking it – only a couple of songs previously she's delivered the genuinely amazing lines "I'm shooting bullets from my chest/I'm superwoman bitches" with an equal amount of conviction, and the idea of play and performance pops up throughout the album – but I'm willing to believe that the whole experience has been as nightmarish as she makes it out to be, and ultimately it doesn't even matter anyway. She's still pulled off the near-miraculous task of making an album cataloguing the downsides of fame and fortune seem not just sympathetic but actually compelling.
So Cinderella's Eyes is actually a work of surprising depth then, one that's been so surprising that it's taken far longer than it should have done to get it a No Ripcord review. But I'd like to think that, with this review now landing firmly in the gift-giving season, it could inspire a slight up-turn in sales figures. Struggling to think of what to get your friends and family members for Christmas? Just get them all a copy of this album. For younger sisters and daughters it will provide comfort in the face of schoolyard bitchiness, (and a warning that the pursuit of fame is not a wise career option); mums will appreciate the album's brightness and relative lack of offensiveness; brothers will pick up on her attitude, and the fact that she's, well, 'fit'; and dads will be forced to concede that not all pop music was better in their day. Actually, while you're at it, why not buy yourself a copy too?
If all that's not recommendation enough, consider this: out of all the acts discovered over the past ten years of ITV talent shows, Nicola Roberts is arguably the first to have had both the courage and opportunity to create her own artistic statement and use it to criticise the nature of the industry, if Cinderella's Eyes is allowed to fail she'll most likely be the last too. In other words, she's the pop princess we desperately need, but sadly it seems, not the one we deserve.
13 December, 2011 - 09:00 — Mark Davison