Music Reviews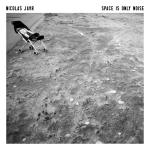 Nicolas Jaar Space Is Only Noise
(Circus Company)

Nicolas Jaar is billed as a dance producer. This is a lie, a lie evident from the first minute of the opening track. He produces minimalist electronic music that blurs the lines between sample and real instrumentation, leaving the listener guessing at almost every sound. "Nicolas Jaar is a dance producer" is a lie, but a very enjoyable one.
The songs often evolve from loopy vocals and synthesizers into a deep seated groove, with the vocals guiding it all perfectly into place. The beats, light on their feet and often barely there, reveal themselves with satisfying effects. It sounds simple at first, but the nuances that one can pick out with repeated listens abound in every song. The minimalism sounds increasingly dense as time passes, and the (mostly) slow album takes just enough unexpected left turns to keep the listener fully engaged. Even when the songs get bigger, they never sound like too much.
As good as the first few songs are, they make for a slow start. The album doesn't really get rolling until the fourth track, the excellent Keep Me There, with a saxophone sample that reminds me of George Michaels' Careless Whisper (which you'd think would be a bad thing, but somehow it's all good). It never sticks around long enough for you to figure it out before it gets chopped up and manipulated. It's all timed very well; he knows just when to bring sounds and samples in and out of the mix. The record keeps the listener wondering about the origin of almost every sound, whether they were played live or sampled is a constant question.
The albums three best tracks follow Keep Me There. I've Got a Woman, Problem with the Sun, and Space Is Only Noise If You Can See highlight all the best things about Nicolas Jaar. The vocals are catchy yet understated; getting them to leave your head is no easy task. They wander in and out of spacey, head nodding rhythms.
The album ends as it began, with slow, IDM influenced tracks. It bookends the more vocal-oriented middle section nicely, but it tends to overstay its welcome. Almost Fell and Balance Her Between Your Eyes are the only two missteps on the record, and they just happen to fall one after the other. They aren't bad songs, but they'd work better as shorter transitional pieces. They serve that purpose in a way, bridging the gap between Space Is Only Noise and Specters of the Future, but they go on for too long. Luckily, Future and the ingenious Variations save the day, paving the way for it to be closed by the calming Tre.
Space Is Only Noise might occasionally overstay its welcome, but it's mostly an intriguing, excellent listen from a very promising young producer. Jaar is still very young and studying at Brown, and making an album of this magnitude and depth at this point in his career is downright impressive.
22 March, 2011 - 13:29 — Andrew Baer