Music Reviews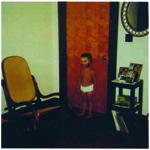 The Nighty Nite Dimples EP
(Graveface)

Put across in a preacher's tongue, uneasy sentences and inquiries such as, "God you gave them eyes but they can't see/The open legs are open arteries./Who's blood in this darling?/Are you bleeding?" darken the already horror-centric showman-like adornments found throughout John Congelton's (The Paper Chase) latest project, The Nighty Nite. A heavily constructed and somewhat operatic array of rock music, carnival-ish orchestration and doom, The Nighty Nite's Dimples EP has colossal presence, a huge musical sound with Congelton's shaky tent revival tone forming stories with vague glimpses of life under medical watch, both physical and mental.
Aside from the odd rise and fall of opener Dimes In Their Dimples, the ultra-eerie freak folk of This Silly Bag revels in an almost-Western air of guitar and violin strings. "Do you think about my body?/'Cause I don't think about your soul," sings Congleton, the music all at once morose and strong. Though this attention to implied horror takes more of an obvious turn with Into My Hospital Gown, there's also an onslaught of brass and melody that enlivens the patients' mission statement, the preacher now asking, "Can I get an 'Amen?'" before a buzzing sound pierces the backdrop and eventually begins to resemble a guitar solo. The sound has the feel of a tree limb being sawed while the teeth catch a knot in the wood. It's harsh and perfect.
Distracting, though, is the band's cover of The Magnetic Fields' Meaningless. It's a competent enough rendition, but next to the rest of the EP, it's appropriately titled.
28 July, 2011 - 08:21 — Sean Caldwell