Music Reviews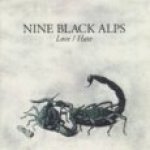 Nine Black Alps Love/Hate
(Universal Island)
Buy it from Insound

You could, if you wanted, make a case for Nine Black Alps being among the most inspired and influential out of all the bands that turned up in the immediate wake of the Franz-Keane-Snow Patrol-helmed return of indie to the upper echelons. After all, they were the only band to have ever asked what Ride would have sounded like had Nirvana broken through first, and now their love of early-90s dissonance is reflected in the flourishing of Club AC30, widely tipped to throw up at least one major combo in the next 12 months, and some of this year's finer albums (Gravenhurst, Maps, Early Years). Plus, like Muse and Bloc Party, they always promised so much more than they actually delivered on the first album, yet still bought themselves time to absolutely nail it, which, by rights, should make Love/Hate their masterpiece.
In fairness, if it all matched up to Burn Faster then it probably would be. Yes, the lyrics are a little on the bobbins side (although, given the field in which the Alps are operating, that's hardly an issue - after all, nobody's getting excited about the forthcoming My Bloody Valentine dates because they're looking forward to singing along, are they?), but there's a dark, kinetic frisson to it that made it a thoroughly welcome return. Moreover, there's a cracking little spell at the heart of this album; Future Wife is the sort of deceptively sunshiney alt.pop that would be sublime in the hands of Teenage Fanclub and isn't too shabby here, Heavier Than Water seems intent on sparking an early revival of early-noughties favourites JJ72 and My Vitriol thanks to its metallic, billowing angst, and Happiness And Satisfaction distinguishes itself with some swaggering and genuinely sweet vocals from Sam Forrest.
Unfortunately, there are another seven tracks here, and it's there that the problems really lie, since many of those are frustratingly unmemorable, and some moments - the moribund musings of Pet Hate or the laughably misfiring pseudo-menace of So In Love - are even outright dreadful. There's the kernel of a superb record in here, what with the apparent endeavour to encompass emotional extremes in all the tracks and the occasional stab at cognitive dissonance, but it's hard not to wonder whether the band themselves are up to the task. Sadly, they've aligned themselves with performers capable of drama, danger and a very real sense of importance, all qualities that steadfastly refuse to leap out of the bulk of the material here.
Ultimately, then, we're left with a collection of songs that, at best, won't sound too bad down your nearest indie club when the first rounds are being bought and everyone's patiently waiting for, say, Fluorescent Adolescent, but for a second bite of the cherry that probably isn't enough. Nine Black Alps remain, unarguably, an exceedingly good idea, but as far as the execution goes they've still left themselves a mountain to climb.
27 November, 2007 - 22:30 — Iain Moffat