Music Reviews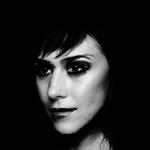 Noveller Arrow
(Ba Da Bing!)
Buy it from Insound

Though "exploratory" is the kind of term that often gets overused in ambient music, Sarah Lipstate has repeatedly pushed herself to go to new places both musically and geographically. Lipstate, who goes by Noveller, has found a new home close in the canyons of Los Angeles after writing and recording a series of albums in cities like Brooklyn, Austin, and her home state of Louisiana. It's the kind of change that can leave anyone a little bit shaken up, both expectant and intimidated. But just like Lipstate's decade-long career, she's allowed herself to wander as she continues to evolve and refine her work on her tenth album.
On Canyons, you can hear Lipstate beginning get comfortable with her life's new rhythms, evoking a sense of optimism over shimmering synth effects that obscure an otherwise tenebrous drone. It's a moment of respite that almost contradicts Rune, a dramatic opening statement that immediately provides a clear sense of unease with its arpeggiated guitars and grand, slow-building refrain. She likes to arouse by creating nocturnal sounds that are equally soothing and unsettling, and you're never quite sure where they'll take you in an emotional sense.
Compared to 2017's more guitar-oriented A Pink Sunset for No One, Arrow is more textural and tonally oblique. The stunning, eight-and-a-half minute Zeaxanthin is cold and forlorn, composed of swirling miasma of keyboards and strings which allude to neo-classical composers like Max Richter, Grouper, and Tim Hecker. Whereas on Pattern Recognition, she opts to place a guitar riff front and center, surrounded by a haunting display of tones and dramatic shifts in mood. It's not unexplored territory for Lipstate, who's also brought her experience working with film scores on albums like 2015's Fantastic Planet and 2013's No Dreams. But this time, she's found a way to broaden the scope of her cinematic soundscapes even further.
Even at their most lucid and dreamlike, Lipstate approaches her compositions with the same freeing release akin to her contributions with proto-punk forefather Iggy Pop. Her stories are abstract and visceral, revealing to the senses even when they're wordless. As the buzzing Thorns unravels, there's a sense of calm throughout before it veers off course—causing distress not just to the listener, but also reflective of Lipstate's waffling state of mind. But as Arrow progresses, we get a clearer sense of how she's beginning to understand what she seeks. And though we're never exactly sure what it is, her music leads us to a full conclusion.
15 June, 2020 - 04:23 — Juan Edgardo Rodriguez