Music Reviews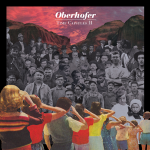 Oberhofer Time Capsules II
(Glassnote Records)
Buy it from Insound

The epitome of the Oberhofer sound is tangible from the very beginning. There are teenage love references, weird twinges and a voice of typical Americana; uplifting, chaotic cries and an ever present xylophonic jangle. The understated energy of drums, bass and guitar underpin a canvas upon which Brad Oberhofer explodes weird, nuclear fireworks of melody and intricate arpeggios.
'You can call the Landline, Oh the Landline, Oh the La, La La La La' becomes inextricably seared upon the senses. Lyrical ideas remain admittedly cognitive yet impossibly addictive, his ear for a chorus is incessantly unforgettable and each element of the arrangement is impeccably succinct and energetic. Away Frm U's simple indie majesty is the form at its pinnacle; I Could Go, the sibling of the former, is an exemplar of the dynamics of Oberhofer – Brad Oberhofer's irrepressible individuality creates an obsessively compulsive track.
Somehow, which is his genius, the chorus for oOoO has no discernible words and yet, is impossible not to sing along to – perhaps until the key change anyway. That isn't to say however, that his lyrics are ultimately childish or amateur, he can conjure great images of 'Beer cans growing blades of grass' and the irony is that this song is in fact his greatest lyrical achievement – 'I know that you love me, but I'm just too damn hungry, for lovin' that I don't need'.
Cruisin', subsequently, arrives at a point where the arrangement begins to lag, the sounds begin to become abrasive and yet another priceless chorus perhaps can't rescue the dissipating spirit of the record. The clichés grate on Gold – 'You shine like gold' – because that's obviously the shiniest thing ever! How profound. You continue to nod and tap your thigh, but by the time of Haus the music has lost its novelty and the boundless energy of earlier tracks seems jaded. Ultimately, Homebro brings final seconds of delight and perhaps growth with its assured lyric and metallic keyboard effect soaring into an emotionally tender crescendo, a fine thing.
There is just a constancy of immaturity that can't carry itself through an entire record. There are indeed moments, particularly pre-cruisin', where the vulnerability is the indelible positive within a song but the rolling drums, chugging bass, crashing guitars and oh, the tingling xylophone need to find some varied form as well as the Eee's, Ooh's and Woah's. Brad Oberhofer has made a debut LP that is remarkably his; however, the subtle nuances of intrigue which he has introduced are perhaps too illusive within the sound. His fingerprints are gently pressed into musical passages rather than tearing at them and what is created is uplifting, just so slightly strange but actually fairly normal. This is not his creative masterpiece, but there is no doubt that one is yet to come.
19 March, 2012 - 10:09 — Matt Bevington