Music Reviews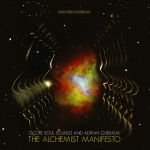 Ocote Soul Sounds and Adrian Quesada The Alchemist Manifesto
(Eighteenth Street)

Ocote Soul Sounds, i.e. Martin Perna of Antibalas, and Adrian Quesada of Grupo Fantasma, were last heard on El Nino y El Sol, a criminally underheard collection of deeply funky, relaxed grooves. Once again on Thievery Corporation's Eighteenth Street Lounge imprint, they replicate this feat of releasing overlooked sublime gems with The Alchemist Manifesto.
Both gentlemen's primary gigs involve playing with massive collectives delivering components of an awesome unstoppable rhythm. With this project, they relish the freedom to relax and explore the Afro-Latin rhythms that inspire them at a more intimate, contemplative pace. The relaxation, however, does not convey any laziness, and the relative scarcity of releases is compensated for in quality.
The Alchemist Manifesto can be listened to as dinner party downtempo, generic ethnically tinged mood music to impress friends with. The same can be said of Portishead, a fact which riled them endlessly and had quite a bit to do with their long layoff and brilliantly abrasive Third album. This is beside the point, for beyond the surface pleasantries of The Alchemist Manifesto, the music is resoundingly deep and brilliantly detailed.
Organic Latin rhythms shuffle at a steadfast, unhurried pace while Perna and Quesada layer seductive and deceptively simple funk grooves atop them with the carefully crafted sounds of vintage synths, languid horns, chicken scratch strings and occasional chanted vocals, among other elements. The elements mingle gracefully, slowly developing a dialog that becomes hypnotic. The point is to take old forms and play around, breeding the overlooked and left behind into a fusion that is reverent, but spontaneous and modern. It is made convincingly.
2 July, 2008 - 20:22 — George Booker