Music Reviews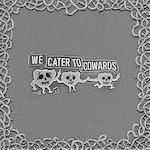 Oozing Wound We Cater To Cowards
(Thrill Jockey)

"Bank account anxiety/Every time I check/It's all work, all work/It makes me really upset!"
We Cater To Cowards, the latest LP from Chicago-based aggro-nihilists Oozing Wound, begins with a track called Bank Account Anxiety. If those words aren't immediately relatable, then this is album is not for you. In fact, it might be about you.
As a fan of 2019's High Anxiety and its thrash-centric critiques, We Cater To Cowards seems somehow easier to absorb while being just as caustic. Oozing Wound (guitarist/vocalist Zack Weil, bassist Kevin Cribbin, and drummer Kyle Reynolds) remains hilariously succinct, able to communicate better than any self-important sophisticate with a trove of thirty dollar words on deck for all occasions, all while set to a muddy and wonderfully corrosive Touch & Go-grab bag of pigfuck'd fury. Needless to say, the commentary matches the sound and the song titles are always great: the fuzz-laced churn of Midlife Crisis Actor is a thing to behold as is The Good Times (I Don't Miss 'Em), which seemingly dips into Bleach-era Nirvana, subterranean pop-riff and vocal tonality ("It's always been the same, from existence to now / Picked over and over again, golden calf's a cow").
Musically, Oozing Wound revel in percussive onslaught, tracks like Total Existence Failure, which enjoys a lengthy tom-centric intro before Weil delivers on throat, and the midway two-step and whirlwind of cymbal play in Hypnic Jerk all about the ride. The persistence of Between Cults, which is excellently cutting, retains the same rhythmic pattern for its length and delves into High On Fire head-knock. Face Without Eyes is propelled by some Van Halen-sized drum fills running beneath a heavy-stepped bass jog and a strangely Hot For Teacher-laden shuffle. The track finishes the album perfectly.
While many bands have taken the route of The Stooges' Fun House and incorporated brass into their brand of amplified mire, (KEN mode comes to mind), trumpeter Thymme Jones and saxophonist Bruce Lamont rarely breach the veritable container of persistent and piston-thick rhythms Oozing Wound build, following what melodies there are instead of collapsing into a mess of free-form scribbling. The only exception there is Old Sludge, which seems to double-down on Stooges evocation per the steady pulse of piano strokes that Weil commits to the track.
Best horn-aided moment on that album, though, is Crypto Fash, an instrumental that sounds mockingly anthemic.
I do love a smart record, especially when it's this loud. We Cater To Cowards has warranted many listens, our current timeline a wealth of ridiculousness breeding targets meant for Oozing Wound's shrapnel. Again, if you're missing the joke, you may want to duck.
13 March, 2023 - 03:12 — Sean Caldwell