Music Reviews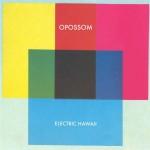 Opossom Electric Hawaii
(Dark Summer)
Buy it from Insound

As far as things go in the New Zealand music scene, Opossom frontman Kody Nielson is somewhat of a fixture. His brother Ruban fronts Unknown Mortal Orchestra, he is romantically involved with Bic Runga (who is a member of Opossom), and was a member with Ruban in the modestly successful Mint Chicks. Outside of his producing work and time in The Mint Chicks, Opossom is the first in-depth glimpse into Nielson's musical talents. In almost stark contrast to Unknown Mortal Orchestra's lo-fi sound, Electric Hawaii pays a heavy tribute to a reverb-heavy time in 60s psychedelic rock. In some instances, the influence of Syd Barrett and Floyd's Piper at the Gates of Dawn echoes through Nielson's whimsical vocal melodies; elsewhere, the album does little to stray from a neutered psychedelic pop formula.
The greatest drawback to Electric Hawaii is its instant pleasant and breezy appeal. This is easily accessible pop music for those looking for the place where MGMT's Congratulations meets Peter Bjorn & John's bland indie pop. Yes, it's nice to not be challenged and heckled by the nagging notion of "do I understand this music?", but after four or five songs, the once appealing pleasantry soon becomes white noise. On several occasions while listening to this album, I forgot it was on. I would walk away, begin working on something else – and would be reminded only during the last song, Inhaler Song, when an immense wave of distortion shattered my stupor and everything the preceding twenty-eight minutes had established.
And in reflection, the moment I remember most from this album is that Justice-esque distortion. Really, it's a fantastic song for its contrast of a slow, moody, and atmospheric ballad with a gushing wall of noise that seems to rattle the cosmos. Consequently, my like for this song would inspire me to repeat the album, only to lump the other songs, from opener Girl to single Blue Meanies (there's your proof for 60s psychedelia), into the same lump of neo-psychedelic monotony. It seems bizarre that, for an album so dedicated to the ambiance of a psychedelic pop album, none of the songs reach four minutes or longer in length. The dreamy cues and spacious production is all present, but it lacks the soul of psychedelia. Perhaps it's time for Kody Nielson to reconsider the value of his economically-timed songwriting in favor of something that is transcendental, cosmic, and without ego. Something that is, you know, psychedelic.
6 August, 2012 - 09:32 — David Hogg