Music Reviews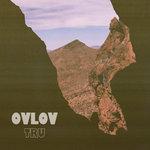 Ovlov TRU
(Exploding in Sound)

Sometimes a music project can only gather its strength through unconventional means. Ovlov, the Connecticut-based fuzz-rock band of Steve Hartlett, hasn't had the most consistent run since they released their first full-length album back in 2013. There wasn't any tangible reason for him to keep Ovlov afloat in the past few years, and rather than force a return that may bring about diminishing results, he chose to gradually go on a test trial (occasional gigs, vinyl releases) to figure out if he'd assembled a format that will do the name justice. Thankfully, there's a timelessness to Hartlett's project that can fit in any time and place, as long as there's a platform for guitars to thrive.
TRU, Ovlov's first album in five years, manages to distinguish itself since it calls back to a time when tuneful melodicism demanded big and bold affirmations. It's about nailing that powerful hook while retaining a pop sense, and as the cyclical squall of Half Way Fine attests, Hartlett's short absence is more than justified. Many of TRU's brightest moments come from welcoming aural pleasures - the arpeggiated transitions suspended amid a patient and corrosive crawl (Spright), the call-and-response punk energy but with a kinder release (Stick). Hartlett emotes with a shrug rather than a shriek, which allows the band members to bring on a fusion of careening song structures that depend on his muted, yet expressive voice.
Even if TRU maintains a seamless balance throughout its lean, half-hour runtime, it still runs into some nagging redundancies. The minor-chord assault of Short Morgan proffers a gripping, adrenaline-fueled escape, except that once Hartlett breaks into a freeform solo it veers dangerously close to Dinosaur Jr. territory. Tru Punk also muddies a sedate, jazz-inclined sensibility as it ends with a seismic rupture of atonal guitars which serves no added purpose. Other times, the small adjustments Ovlov make elevates their sound in unexpected ways - The Best of You, for instance, sounds like something Foo Fighters could've written (no pun intended) had they continued to embrace the blithesome outbursts of their self-titled debut; the added hovering synth as it concludes is also a nice touch.
Ovlov make the most of a lateral move rather than a full-on reinvention in TRU. The band may border on the fringes of alternative rock - not too heavy for the unadventurous commercial rock radio crowd or too primal for the post-rock-leaning emo scene - but there's a good chance they're perfectly content in between that niche. Even so, there's something about this project that feels fleeting, as if they're meant to live on as that lovely reminder your Spotify randomly shuffles in between too many Sunny Day Real Estate listening sessions. At the very least, whatever version of Ovlov we get in some distant future - regardless of how that looks like - could and may very well be a necessary reminder of indie rock's undying force.
24 July, 2018 - 12:56 — Juan Edgardo Rodriguez