Music Reviews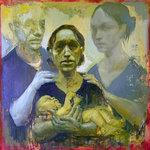 Pallbearer Forgotten Days
(Nuclear Blast)

Just when it might've seemed like Pallbearer had begun to exhaust the limits of their doom-laden metal with 2017's Heartless, the Little Rock, Arkansas four-piece returns with their most inspired and emotionally charged. Grounded by themes of death and the passage of time, the band doesn't make any compromises to their no-frills, funereal noise, but they do enhance it. Produced by Randall Dunn (Sunn O))), Earth), they strive to bring forward new ideas whenever it allows—whether they're accentuating subtle hooks or serving big, tectonic riffs to their technically proficient performances.
As usual, Pallbearer allow themselves to get lost in the drift. But it's in those early tracks where we hear them throttling down their progressive ambitions and refining their sludgy dirges. "Who can I trust with tomorrow/I can barely trust myself," lead vocalist Brett Campbell sings on the title track over crisp, dynamic riffs that make a powerful first impression. On Statis, Campbell sings about not letting life's precious moments to waste as he and guitarist Devin Holt jut out uncharacteristically grungy chord progressions. It's even inspiring how he reaches for a higher vocal register that's more Geoff Tate (Queensrÿche) than Ozzy Osbourne, convincingly expressing the album's poignant message of finding meaning even as we live on borrowed time.
Once the epic, 12-minute Silver Wings takes flight, Pallbearer falls back comfortably into a ponderous middle section that feels drawn out; there's even a four-minute track (The Quicksand of Existing) tucked in between that stretch that almost goes unnoticed if you're not paying attention. Which, to be fair, is a big part of their shtick. But it does gather some steam, like in "Caledonia," which closes Forgotten Days as a near-ballad with thrashy, palm-muted rhythmic patterns. Though not quite the standout the band promises early on, it does end things on a mournful yet triumphant note. It caps off one of Pallbearer's most approachable statements to date, where they bring new life to their usual approach as they stick to their core sound.
31 October, 2020 - 04:29 — Juan Edgardo Rodriguez