Music Reviews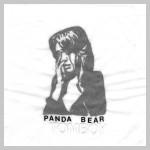 Panda Bear Tomboy
(Paw Tracks)

Before the release of Noah Lennox's transcendent third solo album, Person Pitch, he was simply a cult hero, beloved by the offbeat underground; he had not yet painted his masterpiece. The 2007 release crowned Panda Bear as "next," and foreshadowed not only Animal Collective's sensational Merriweather Post Pavilion in 2009, but also the creative direction of the subsequent indie generation.
As of July 2010, Lennox began throwing coals on his now substantial following, fueling the desire for a forth full-length. A string of singles throughout the end of 2010 and beginning of 2011 would appease the masses, and eventually make-up the first half of Tomboy. Lennox offered a taste, but there has still been an immense wave of hype surrounding Tomboy, as one would expect on the back of a widely acclaimed record like Person Pitch.
With Tomboy, Panda Bear offers a proverbial yet remarkably resonant and dense album. The biggest step Lennox takes in a different direction is through the format of the album. Person Pitch's set-up was emblematic of much of Animal Collective's earlier work: a few dribbling, psychedelic tunes combined with the epic 12-minute ear-benders, an album meant for a single sit-down. While still featuring the repetition and reverb that embodies much of Lennox's work, Tomboy is more divisible, and more accessible for a downloaded generation, or listeners looking to simply dabble their toes.
Trading in samplers for sequencers, Tomboy relies more on simplicity. The most climatic moments of Tomboy are born from Lennox's resounding vocals. He displays a certain confidence not heard in the more lo-fi and discreet Person Pitch. Although simple, Lennox is still able to create an audibly enchanting album of 60s-esque pop, while still carrying the distinctive 'Animal Collective-member' sound.
The album opens with the sonorous, yet rather unclear, You Can Count on Me. While the lyrics read, "Know you can count on me," the delivery sounds suspiciously like, "No, you can't count on me." Ambiguity aside, it has a colossal sound worthy of comparison to Person Pitch's grandiose opening track, Comfy in Nautica.
In true Beach Boys fashion, Lennox visits the oceans in Surfer's hymn, in which he sings of the waves of life and opens with, "When there are hard times, I'll step up." Although the meaning behind Lennox's lyrics take some time to become clear and soak in, Tomboy still possesses the personal feel that Lennox has also been able to create on all three of his previous albums.
Last Night at the Jetty displays Lennox's ability and knowledge with melodies and rhythm, as he creates a sound resembling Brian Wilson backed by the Velvet Underground. While the creative process of Tomboy may differ from his previous works, Lennox still crafts unique, booming waves of reverb that make the album perfect for headphone swimming. The current does get a little choppy with the appropriately named Drone, however Tomboy ends in smooth waters with Benfica, which provides the perfect, pulsing conclusion to an album rich with deep-breath moments. Portions of the album were mixed by Pete "Sonic Boom" Kember, who clearly has a wave fetish after producing also MGMT's Congratulations.
Although almost painfully soft-spoken and reserved, Noah Lennox has the ability to take an entire generation of music and shape it the way he desires. Even with such expectations, Lennox has fashioned another covertly personal album that reflects much of the psychedelic and experimental influences of his past, while still maintaining an innovative and pleasing sound. With the release of Tomboy and with Animal Collective primed to record new material, Lennox sits at the forefront of the current generation of indie musicians.
13 April, 2011 - 20:54 — Andrew Williams