Music Reviews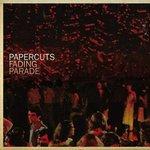 Papercuts Fading Parade
(Sub Pop)
Buy it from Insound

Ten years sure is a long time to be drowning in one's own sorrows. Understandably so, many go through an entire lifetime without a life partner to share one's many triumphs and pitfalls. Jason Quever, one-man band and all around miserabilist, prolongs his search for a perfect soul with a new set of songs that pierce much more acutely. Between modest but disaster-prone portraits, you'd think he holds a masochistic thrill for heartbreak. Just like Jason Lytle's forlorn satisfaction, the gauzy film reel he projects slowly burns, revealing half-broken scraps that obscure the bigger picture of his perpetual struggle.
Extending his repertoire by just an inch, Fading Parade is easily his most anonymous effort. By gradually blurring the effervescent animosity of Can't Go Back, Quever now sounds even more oscillated, exerting an intelligible moan that cries utter pessimism. It's also a misleading contradiction: frazzled sketches are tucked with gorgeous sun-soaked harmonies that mirror a sepia-toned, West Coast state of mind. Part of this is due to a surplus of reverb coating the entire production, which resurrects the overdubbing technique of Phil Spector with obfuscated chamber instrumentation. Chills, with its folky guitar lines and throbbing tom pounds, layers a masked cello with a steady harpsichord like the intricate production found in Pet Sounds. No stranger to the sounds of the sixties, Quever likes to cap his dreamy reverie with an elaborate platter of analogue production techniques.
Quever confines himself to the musical palette of his past work with a prudent eye. And it shows – Fading Parade succeeds in how it furthers more solidly grounded songwriting in favor of simply extending minor ideas. However, for an artist that's dutifully dedicated to releasing music at an expected rate, you'd think he weren't as apprehensive to finally seek his own voice. Quever may have been one of the first ones to enhance atmospheric haze into the new millennium, but he's doubling-up the transient waltzes of Beach House in tracks like I'll See You Later I Guess and Wait Till I'm Dead without the faintest surprise. He seems undecided on jumping the fence – instead of following the commanding influence he's masterfully adopted from dirge staples Galaxie 500 and Spaceman 3, he's now ready to embark upon the more trembling sonic distortions heard in acts like Mazzy Star and Slowdive. With each new release, he traverses farther down a questionably shoddy path.
But then, a stunning melody like Winter Daze comes along and pretty much sweeps the rest of the material. Instead of all these sprightly misfires, Quever elegantly laments with a fully sonorous wave of piano keys and string chords that are fully his own. It's that one genuine moment that almost overcasts the rest. Fading Parade may be trodden down, and it does meander on too much diffidence to make it readily distinguishable. It is also a pleasant lull, prepped with a rich gamut of melodic rewards. In all respects, Quever still hasn't lost his knack for pop traditionalism. If they keep breaking his heart, then it'll be our gain.
1 March, 2011 - 18:01 — Juan Edgardo Rodriguez