Music Reviews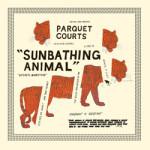 Parquet Courts Sunbathing Animal
(What's Your Rupture/Mom + Pop)

Every once in a while comes a band that perfectly evokes a state of mind of a particular demographic. Whether they stand in defense of the flattery or not, Parquet Courts have shot up in two years time from remiss slacker potheads to the essence of New York City cool. The Texan transplants, with the exception of Boston native Sean Yeaton, seem to unintentionally embody the twenty something Brooklynite American dream, one in which life-changing decisions can be put on hold and drugs can be enjoyed in the intimacy of a shared row house. Not that Parquet Courts have glamorized their surroundings in any way, though numerous media outlets sure have, which is why their insistence to clarify any fabrication increases their likability. Every word that's been written about them reigniting the fading torch of indie rock says more about the writer's sociocultural background, an eagerness to evangelize a type of underground rock iconoclast that is unlikely to exist ever again. Can't force the bearer of the crown even if he's entitled to it.
Parquet Courts have only opened up that conversation because their skittering punk tunes can be ascribed to different periods of New York City rock history. Their first major indie release, Light Up Gold, was a wriggling, fuzzed-out thirty three minutes of thrashing Americana that at first sounds like it was chucked up in no time. Its warped, bluesy vamping holds an adherence to keep things simple, performed with a detached, yet observational humor that made you question whether they were being serious or tongue-in-cheek. In this mode, they embodied the seventies punk aesthetic sans its three-chord assaults, carried through the menace and deep-rooted emotional instability found in Andrew Savage's lyrics. Having written a record that mostly careens in a stripped-down rush must've got to them, and they answered the irascible "what's the magic behind a short song?" question they would regularly get in interviews by doing just the exact opposite.
Instant Disassembly was the perfect attention-starter to reintroduce the band, a languorous seven minutes that traces its roots back a decade to the sixties by mixing the songwriting refinements Lou Reed made in Loaded with a bit of a Stones kick for good measure. Which is why Sunbathing Animal can be viewed as a chance for the band to prove that it's never too late - nor too early - to mend. It widens the scope of influences even further, becoming more refined and pointed as they begin to settle into a new pattern whilst playing some of those old tricks. The second reveal came in the form of its highly agitated title track, a sad display of desperation that has Savage spouting a series of acutely amusing fragments (about a flaky partner where there's a disconnect from the giving end) while his bandmates keep up his pace without taking even a gasp of air; its hyper-sped up beat and spitfire yearning a good nod to the Buzzcocks.
There's a lot to take in when trying to make sense of Savage's verbose loquacity, a quality borrowed from the Richman/Malkmus school of lyrical obtuseness. But Savage is mostly caught in a flux of ideas, at times connected with whatever impressionistic thought arises from nowhere while other times it's specially logical. Savage essentially comes across as a scholarly dropout most of the time, though it's quite fascinating that he has a curious fixation with vivid anatomical imagery. There's the time he wrote about the time his shrink found no ideas in his brain in No Ideas, and this album is replete with them: they make a chorus out of slugs and guts in sooty opener Bodies Made Of, guilelessly describe the physics of blood flow in the jerry-built glam rock of What Color Is Your Blood, and hitting an emotional rock bottom as his "bleeds into the clatter" white his bartender girlfriend pours happiness to her clients in the title track. It's a tad perplexing, sometimes even worrisome, to begin to comprehend what's really racing through Savage's head.
Parquet Courts aren't really interested in being referred to as the smartest punks in the room, so naturally there's a devil-may-care attitude to their songwriting that suggests they've been lounging about. Except they're not that good at slacking on the job - the disheveled day trip of Dear Ramona wants to come across as listless with the small caveat that it nails its perfectly compact stoner vibe without falling into any jam band digressions, while Black and White is a smutty garage-rock bruiser that sounds exciting just in the way Savage sings with a graceful nonchalance. There's no excusing some of the album's more lackadaisical moments, though, especially the trudging She's Rolling, which is not only tiredly rudimentary but is also quite haplessly performed and swanks a painful harmonica solo. To neatly wrap a ramshackle blues-punk jaunt to the extent of forty-five minutes without succumbing into the occasional pandering would've been a difficult feat to accomplish.
At this point Parquet Courts have tested a whole gamut of influences, but they've managed to firmly stand their ground as livid punks with distinction. For that reason it's not hard to comprehend why they've perked up the Williamsburg scene, a once diverse urban environment that's been turned into a culturally homogeneous enclave. Except that there's no politics, or anything else besides describing failing relationships with wordy ache, behind their music to really say if they're either comforted or rallying against their existing milieu. Maybe over moleskins, but who doesn't find those irritating! Poing being, art, punk and New York City have always co-existed together, and in many ways have given a voice to acts that have gone on to shape and redefine what rock n' roll means in a more individualistic direction. It's a bit of stretch to call Parquet Courts the next trailblazers of off-center indie rock, but they sure got the rock n' roll part down pat.
2 June, 2014 - 04:21 — Juan Edgardo Rodriguez