Music Reviews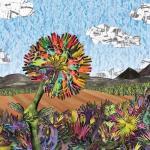 Parts & Labor Constant Future
(Jagjaguwar Records)

Parts & Labor are one of those bands who seem to have changed little over the years, but if there is one thing that does separate one album from the next, it's that their sound gets a little bit more refined every time. Stay Afraid was lo-fi noise-rock at its most raucous, while breakthrough album Mapmaker and its follow-up Receivers both channeled that into something increasingly more focused.
Constant Future follows that trend - it's by far their most accessible attempt to date, if such a word can be used to describe a band that thrives on overdriven synths, impenetrable guitars and thunderous percussion. Those traits are still present and correct, but they're accompanied by vocal melodies that are catchy and singable - almost poppy, in a roundabout kind of way. It's a refreshing change from bands who like to complement their noise-rock aesthetic with equally discordant vocals.
Echo Chamber is a highlight, opening with flutey, Pied Piper synths before bursting into stop-start bursts of perfectly synchronised drums and guitars. The vocals in Rest seem to explore every note on the scale, sprawling out over swampy power chords and squealing keyboards. Hurricane is another fine addition, building slowly with almost folky lyrics ("I used to be a hurricane, but now I'm just a breeze / Blowing garbage down the beach into the bay / For I have brought the wind to you, and I have brought the rain / And I have never asked at all to be repaid"), gradually morphing into a beautiful mess of crashing drums and howling synths. Indeed, Dan Friel's synth squall has become Parts & Labor's signature sound - a second voice of the band, if you like - and not once yet has it threatened to outstay its welcome.
In fact, there's very little to complain about in Constant Future, apart from the fact that it's no great step forward from their previous material. That's no bad thing in itself - this is a sound that Parts & Labor have made their own, and it's an exhilarating sound at that. But you have to suspect that another collection of songs like this would have even the staunchest Parts & Labor fan asking what else they're capable of.
15 March, 2011 - 09:30 — Joel Stanier