Music Reviews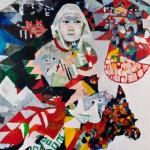 Past Lives Tapestry Of Webs
(Suicide Squeeze)
Buy it from Insound

Past Lives, spawned from the ashes of the occasionally exceptional post-hardcore band The Blood Brothers, is the hardest working band in Seattle. They show up everywhere, all the time. If a band drops off of a bill, there's at least a 60% chance Past Lives will fill their spot. In the right setting and on the right night, they put on a pretty solid show.
My one complaint with Past Lives' live act is the same one I have with Tapestry of Webs: it never seems to gain all the momentum it's capable of. All the songs build nicely and neatly, using one guitar to hold down the low end and the other to create drones, atmosphere and a loud lead part when the time comes. Though they eschew verse-chorus-verse song structures for a gradual build on every song, formats still tend to repeat themselves time after time. The slow sections come off as boring and when every song starts that way it's tough to keep things moving. The album's arrangement is either awkward or ineffectual, which doesn't help the lack of momentum. The transition between the first two songs is jarring in the worst way possible and At Rest is a completely unnecessary instrumental thrown into the latter half of the album.
The best songs are the few that build to their full potential. K-Hole, Falling Spikes and Hex Takes Hold all end up in a frenzy of guitars, Jordan Blile's aggressive vocals and Mark Gajadhar's jittery rhythms, all three working just as well as they did in The Blood Brothers. When they get it right, they can build and release tension with the best of them. When they get it wrong it's dull and instantly forgettable. They try and push songs as close to a breaking point as possible and then reign them back in, something that's been mastered by many a post-rock band but not by Past Lives. This only succeeds on Aerosol Bouquet. The cathartic endings are never nearly as cathartic as they should be.
The best and most satisfying endings are all led competently by Blile. He's a talented front man when he's firing on all cylinders. His lyrics fit well into the style, filling the space with dark and mostly meaningless imagery. The problems arrive when they are shoved to center stage and he slows down. He's solid as a band leader but isn't great at peddling bullshit as deep and meaningful.
I've wanted to hear a full length from Past Lives for a while, and I'm disappointed that they didn't play to their strengths. They show the beginnings of great ideas in almost every song, and a few get the full treatment and stay great all the way through. The good songs are very enjoyable, the rest of the album is, unfortunately, pretty forgettable.
19 February, 2010 - 21:26 — Andrew Baer