Music Reviews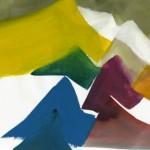 The Pastels Slow Summits
(Domino)
Buy it from Insound

The usual misconception about long-standing acts that continue to release new material long after they peaked is that they either write in a more sophisticated vein or they begin to mellow out. Though The Pastels fall under these two categories, they're actually in a position where they have nothing to lose. The C86 trailblazers are one of the few who managed to outlive that eponymous cassette, yet inevitably became the kind of band that gets constantly name-dropped by both established and newcomers alike without any celebrated panache. Their music is often associated with nostalgia, and even an announcement of their latest album Slow Summits is being publicized as their first in sixteen years.
The premise that they've been idle for all these years is certainly a misnomer, as they've kept busy either writing for film (The Great Wilderness) or by way of collaboration (Two Sunsets). But once Secret Music opens the proceedings with a relaxed, settled back feel, the description makes sense; it retains the tranquil ambience of 1997's Illuminations. "In slow design through neon signs/ I wish you were here", pleas Katrina Mitchell while a whimsical flute flutters over its unadorned orchestration. The Pastels have always played with two contrasts, with songs either built around wailing, fiddling guitar dynamics or shambling, slightly disheveled chords, but as far as their debut release have they been using an assortment of chimey knickknacks to adorn its downy wall of fuzz. Only that as they've progressed, the thick haze has cleared into an open sunlight of strings and horns.
Slow Summits presents The Pastels at their most amiable, bearing the quiet, understated splendor of a picnic with friends on a warm Sunday morning. The blithe midtempo jaunt of Night Time Made Us even dwells on the remembrance of things past with a sigh of pleasure instead of regret ("night time colors remind me/of things we used to do"), as if the conflicted lovers of Nothing to Be Done encounter one another years later and have a laugh about it over that beer they once contemplated about having. But they do retain that wistful naiveté for its own sake in Check My Heart, a bubbly, impossible-not-to-love number that has Mitchell and Stephen Mc Robbie portraying a couple literally stumbling over each other – exchanging verses like I wanted a life time/ not just fall in your arms/dive down tumbling love - in what has to be one of the most adorable mete-cute metaphors ever displayed in songform.
It may be that the slushy silliness of Slow Summits gives it a pervading atmosphere of content and jollity, but there's a hint of depth in their playful usage of naturalist imagery. This may give the songs a charming ambrosial tone, but at times the variations are far too slight to hold any emotional weight. "In the darkening day/starlings wheel and sway/and you smile won't you miss me", laments Mitchell as Kicking Leaves drifts into a faceless, by-the-numbers ballad. At least it carries it into the faintly more rhythmic Wrong Light, in which Mc Robbie's laconic vocals almost give a downer whirr to its subtle organ touches and prominent horns, both of which contribute more of a major key brightness. Mc Robbie is not entirely at fault – after all, his leisurely intonation in their eighties heyday was as pleasurable as a ruined masochist taking an SSRI depressant – but it's just not as evocative as Mitchell's in the musical terrain they cater to now.
Whereas The Pastels once distinguished themselves from their jangle-prone counterparts with more bite, they're now cozying up to that cliché with a casual embrace. There's no denying the seamless arrangements in display, which they try not to disrupt save for the trippy disarray at the end of Summer Rain, making for a melodious clarity that's just unfalteringly beautiful. It certainly can't be defined as an afterthought in The Pastels' career, as they've been emphasizing variable shades of mood over primal noise for more than half of their career. So instead they've fallen into a middle ground – one that's surely more radiant, but also completely retreating from what gave them some distinctness in the first place. They still can write a painfully sweet melody, but what's the point if there's no clear sense of something at stake to offer.
24 May, 2013 - 04:39 — Juan Edgardo Rodriguez