Music Reviews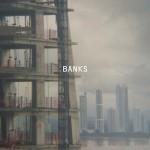 Paul Banks Banks
(Matador)
Buy it from Insound

Uncertainty has been the main driver of all of Paul Banks' efforts. If the success of Interpol was brought upon to him by the request of Daniel Kessler, then it could be said that his entire trajectory as the leader of an influential band has been the ultimate apparatus for him to discover his might as a fully autonomous songwriter. He remains loyal to Interpol, and he's made clear on repeated occasions that the band remain very much a unit, but the subtext in his answer suggests that he's truly content when his name is up in the venue billboard, whatever name he decides to choose. Who knows what Julian Plenti really meant? But Banks is one to not dwell too much on appearances, and instead of fumbling with the name to avoid it becoming a point of discussion, he lays it to rest with the assurance that the persona will always live within him.
Banks has never been the most evocative frontman. One could even say that he appears quite pedestrian when he's not playing as performer, but there's no denying his talent to credibly communicate as a voice for the disaffected. It's irrelevant to objectify over that austere, miserly voice – whether he's quick on his feet with a tailored suit, an affluent, moccasin-wearing lothario with French taste resting his arms in a velvet couch, or a scholarly jock roaming the streets of Manhattan in a bike, the real Banks can be found somewhere in his treacly (and oftentimes silly) prose. Banks is typically an unreliable narrator, an anonymous figure that will openly fess up his personal failures and insecurities with uninhibited honesty. Their last project before drifting into other projects, Interpol, may have been an excruciatingly plodding, toneless effort with a sharp sense of abject nihilism, but its brazen disregard to comply when the stakes were up that high for the band was fascinating to witness. It was also the first glimpse of Banks' aspirations as a solo artist.
It's fair to judge whether or not Banks has completely distinguished his sound from that of his brotherhood. He emphasizes the demoralizing dimension of his music, and continues to do so without differentiating it from that of his similarly contemplative run with Interpol. Now this may indicate a struggle to withdraw from his past, but it proves more than anything that Interpol was strongly guided by the creative input of Banks. The supple guitars that introduce The Base meander in a quiet stream before erupting into a rockish crunch with shuddering force. Banks confesses, its in silence and in rage, can a man turn the page, stationed in his inner base with a boiling desire to make his next move. Whereas in the industrial-lite, mechanized drive of I'll Sue You he's fraught with bitter confrontation, there's always a strain, there's always a thin eye, whilst conjuring feelings of frightful obsession: you have everything that I'm waiting/you paved the way and I don't want to let you go. His play on words can still border on quizzical and purposely ambiguous, but at least there's enough clarity in them to discern the song's larger intent.
Banks can also be lighter in tone, even if the overarching groove of the record is abraded with a gray scuffing. The paint finish will evidently be hard to scrape off, especially since Banks' saw-toothed riffs penetrate with unmitigated ravenousness. But at times, the songs feel a tad underdeveloped, with sumptuous hooks shining bright over slipshod, kraut-inspired synths and metallic percussion lines. No Mistakes is the best example of this, which actually features quite the complex melodic progression over a fairly ordinary mid-tempo rhythm. And then there's the luminescent plucking of Arise, Awake, which pleasantly spreads like an early dawn before turning into a sludgy, discordant disarray of empty noise. It's laudable to see Banks break out of his comfort zone, but in doing so he lets out a whole other series of conventional decisions. Which, in turn, make one wonder if he should be left completely to his own devices.
To his credit, Banks' refusal to keep still in the past few years has only strengthened his songwriting and lyrical competence. He's more at ease with himself, making the most out of this brief repose by slowly breaking away from any intended entangled commitments. Banks can still write a killer song like Summertime is Coming, which greatly overshadows most of the others by balancing an undaunted emotional release with the fully-sounding dramatic scope of Interpol. But for the most part, Banks battles his animosity with underlying hope, always relying on the former with an almost self-deprecating hostility. So the drive is still there, but why pursue it its always this uncompromisingly bleak? Banks documents a man that is living his way through life, unfolding his inner self for better or worse. Let's just hope he figures things out once compromises have to be reached yet again.
29 October, 2012 - 11:21 — Juan Edgardo Rodriguez