Music Reviews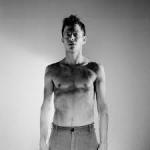 Perfume Genius Set My Heart on Fire Immediately
(Matador)

Perfume Genius' fifth album is a chance to take stock. Mike Hadreas' life is now unrecognizable from when he'd upload to Myspace from his childhood home and the actual sound bears even less resemblance to what that music would become on Learning. Hadreas' story can roughly be told through those early press shots—bruises on faces, hands on necks, and holes in walls—and today's hyper-masculine shirtless cover and photos with an ax in hand. Such a striking album cover needs to be followed by a similarly bold piece of work.
There's little doubt that with Set My Heart on Fire that has been achieved. It weaves together a mess of influences to create a record that is his most ambitious, forward-thinking, and jaw-droppingly crafted yet. This feels like an all-encompassing record, telling his own personal story but also finding, mostly, the right balance between what worked so well throughout his discography so far. Considering the album's ambitions, it's no surprise then that it begins with a huge breath. It's a similarly poignant first declaration, as he poses "Half of my whole life is gone" in a way that's neither proud nor mournful. Soon, it glides into a classic 60s ballad reminiscent of Roy Orbison, an ode to letting things go and forgiveness. "In slow motion, I leave them behind," he declares, as he takes a step into this new world. Then, like a muscle car, the album speeds into life.
Describe jolts and pulls before then falling apart—it's a powerful first step into what is his most physical record. Between this album and 2017's No Shape, he wrote and performed in the dance project The Sun Still Burns Here. It has seemingly proved transformative, with Hadreas writing for the first time with any kind of physical response in mind. But after finding peace with his past, his queerness, and relationships in past albums. this feels like a final step to completely reclaim his body. Perfume Genius albums have always been intense about the body, but it was often passive, defining his body and others in the terms used by other people. It's especially apparent on the first two albums, but even on Too Bright, songs like Queen were defiant but the bodies were still "cracked, peeling, riddled with disease"; meanwhile, My Body was a deliberately uncomfortable, slippery song that detailed how badly he'd treated his body with excess.
There's a confidence that exudes in a way that seems unimaginable from the same writer as the one that produced Learning. From where No Shape started going, this feels like a reclaiming of the body, both as an individual but also savoring the connection with others—it's no longer defined by others, but a stream of epiphanies and breakthroughs. On Your Body Changes Everything, he sings at the bottom of his register before gaining release as he's caught by a partner. The supernatural Moonbend details "ribs fold like fabric," while Just A Touch wants that connection to linger as long as possible. On the breezy, almost country Without You, he describes "the strangest feeling, unknown even" when appreciating what he sees in the mirror. The peace won't last, but "when the center falls out, at least I'll have the spring." "Jason" combines both the craft of writing about their bodies with emotional deftness. It's rich with detail ("Breeders on CD") but knows when to show and not tell ("Clumsy, shakily, He ran his hands up me.") Written with the air of a lullaby, with Hadreas proudly adopting a mothering role, it's the tale of a bleak hook-up, but one that fills him with some kind of hope—until the next morning, and he resorts to petty theft.
And, for as strange as it sounds on an album that sometimes borders on industrial, it is an album of restraint. While similarly well-crafted and interesting, this album doesn't have the decadence of No Shape, which saw layers thrown on with abandon. It exists in its own world, where harpsichord can sit on top of distorted bass, but doesn't hold your hand through it. The songs that resonate on this album are its most vague (Describe, Nothing At All, Just A Touch), as Hadreas gives you enough to feel that he's writing about your experience as it's a shared one. On Describe he searches endlessly for contentment that has been long absent, but it feels like he's also extending an arm.
In an interview with the New Yorker, Hadreas said, "That's what I hope people feel: that something unspoken, something hard to articulate, some tension, has been understood for four minutes. There's something about sharing any sensation, even the deepest bleakness, that makes it less bleak." This is pop for masses. The thrilling Nothing At All is somewhere between classic heartlands rock and a Robyn single but written with a single listener in mind. On Some Dream he leans into a dramatic, second-half about-turn with thumping piano. "I know you called me and I didn't pick up/ I was busy freaking out," Hadreas sings overcome with doubt, as if the dam is about to burst after all the tossing and turning of the last 40 minutes. "All I meant to love is gone to the ground", he says, "All this for a song?"
The closer then is a calmer but not more clarifying statement. Hadreas has called it "the saddest song I've ever made," as it questions whether there is anything beyond this exact moment if any. It immediately feels a strange, disheartening way to end the album but it makes perfect sense— an acknowledgment that our bodies, with their burdens and their faults, are all we can control. There's an almost aching silence at the end of the record partly; yes, because it's quite a somber note, but also after 50 minutes, it's strange to be slowly pushed out of the world this album creates. Hadreas shows a deftness to be able to strip his influences— from orchestral dread to the bounce of Motown—down to their barest bones and put them all back together.
Set My Heart on Fire Immediately isn't a perfect album. There are a couple of wormholes that Hadreas gets lost down and the sequencing causes a slightly jilted second half, but once these songs nestle in, they're impossible to shift. For an artist who critics have tried to put in a box, whether that's as a quiet singer-songwriter or avant-garde pop star, the cover sees Perfume Genius take his rightful place—defiantly standing out on his own. [Believe the Hype]
25 May, 2020 - 04:38 — Matthew Smith