Music Reviews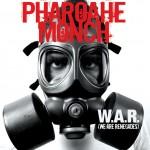 Pharoahe Monch W.A.R. (We Are Renagades)
(W.A.R. Media / Duck Down Music)
Buy it from Insound

Pharoahe Monch can be a hard listen. His rhymes are dense and his beat picking is occasionally suspect. His music requires focus and attention to appreciate and sometimes the reward isn't worth the work.
It's no surprise, then, that his major label gambit, 07's Desire, was a big-ass flop. Sure, it was a dope record that found Monch going hard on politics, race relations and violence, but music one has to work for never plays well on Hot 97.
With a lesser personality, that kind of commercial failure can cripple or end a career. Thankfully, the Organized Konfusion vet is back with W.A.R (We Are Renegades): an indie-release album that shines under lower stakes without sacrificing Monch's complexities or intelligence.
The things that keep Monch out of the mainstream limelight are still present on W.A.R. Beat selection is still an occasional problem, with good flows going to waste on poorly picked faux rock tracks like The Grand Illusion and W.A.R. Lyrically, his delivery and flow still demand attention, which is a bad look on the more laid back tracks, especially the soulful but inessential Haile Selassie Karate.
That being said, Monch didn't become your rapper's favorite rapper by embracing what's popular. His lyrical density and social consciousness are as sharp as ever and tracks like Black Hand Side and Let My People Go stand among his best tracks. Especially great is Clap (One Day): Monch's calls for social upheaval against the police and government, goes Public Enemy-type hard over a handclap in a near-a capella song climax and even finds time to land a good punch line about former New York governor David Patterson.
W.A.R. is conflicted in its ideology. Monch comes off as a realist with an optimistic bent. He sees the existence of racist and prejudice ("We went from niggers to porch monkeys / to Negros to blacks / back to niggers again / yet nigga's are still hungry"), but holds out hope on a Jill Scott touched Still Standing These kind of social reflections and spiritual dichotomy are right in Monch's wheelhouse. The less said about the album's dystrophy science fiction subplot, the better (though it must be said that Jean Grae fucking KILLS it on the goofy-ass ).
If W.A.R. proves anything about Monch, it's that he was never meant for the major label life. He may never get rich with his social conscious, street weary gospels, but for those willing to go deeper than a cursory listen, Monch is the truth.
24 March, 2011 - 18:03 — Charlie Jebb