Music Reviews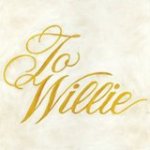 Phosphorescent To Willie
(Dead Oceans)

As a general rule, cover albums are always an awful idea. There's really no better way for an artist or band to smudge an otherwise laudable career than for them to assemble a collection of bland, uninspired rehashings of the songs that influenced their own work - just ask Rage Against the Machine or, more recently, James Taylor. However, on his new album, entitled To Willie, the Brooklyn-based alt-country artist Matthew Houck, aka Phosphorescent, proves that there are exceptions to almost every rule and that the term "cover album" doesn't have to be synonymous with swill.
On his 1977 album To Lefty From Willie, Willie Nelson recorded a series of songs written by the legendary singer/songwriter Lefty Frizzell that served as a figurative thank you and goodbye from a devoted fan to his recently deceased hero. Even though Nelson is still alive and well today and is able to play each of the eleven tracks on To Willie himself, Matthew Houck has nonetheless decided to send his own thank you note to honour and praise an artist who has played a critical role in his artistic development. As Houck swaggers from one Nelson tune to the next, his reinterpretations are able to give these traditional southern ditties a facelift suitable for the modern indie-rock arena without castrating the original songs of the dark emotionalism that made them country classics. And while Phosphorescent may have created new versions of these familiar old songs, the songs themselves likewise reveal an entirely new side of this familiar artist that until now has been reserved for live shows.
Where as earlier releases like 2007's Pride or 2005's Aw Come Aw Wry found Houck sitting contentedly alongside the likes of Sam Bean and Will Oldham, To Willie is more likely to be placed in the same league as Wilco or the Cardinals. Can I Sleep in Your Arms demonstrates the minimalistic, reverb-soaked musicianship and deftly-composed harmonies that endeared Phosphorescent's earlier work to so many. However, tracks like Pick Up the Tempo and The Party's Over are faster and less serious than almost anything from Houck's previous albums. Now, this may came as a surprise to those fans whose knowledge of Phosphorescent is limited exclusively to Houck's studio work, most of which is characterized by tortoise-paced tempos and sincere introspection. However, Houck's touring line-up has played several songs live over the past year and has now simply taken the next logical step in recording them for a proper studio release. Acclimating songs from the live arena to the studio can be a daunting task for some as they attempt to preserve the energy and excitement of live music. However, on To Willie, Houck is mostly able to retain the vitality that made these songs staples of a Phosphoresent live shows.
The music is not the only thing novel or surprising about To Willie, however. Although Matthew Houck obviously did not author the album's lyrics himself, even the inclusion of tracks like I Gotta Get Drunk reveal the lighter side of an artist who has hitherto been nothing if not sombre. Alt-country has never been a genre to take itself too seriously, as artists such as the Drive-By Truckers, the Gourds, and even Ryan Adams have proven they know how to cut loose and have a good time doing it. Pride and Aw Come Aw Wry are great albums, but they are also chock-full of meditations on love, addiction, and all of the other demons that can shatter a man's soul and are, therefore, relentlessly solemn. While many of of Nelson's songs reflect the bleak lyricism of Houck's previous albums, they are also more hopeful and, occasionally, more funny. Whereas Pride saw Houck being blinded by "Cocaine Lights," To Willie shows him finding "Reasons to Quit." On I Gotta Get Drunk, it's refreshing to take a step back from the introspection and laugh at lyrics like "Now there's a lot of doctors who tell me/I better start slowing it down/but there's more old drunks than there are old doctors/so I guess I better have another round."
My first listening of To Willie was as I cruised down I-75, hungover and lacking sleep, and the only thing I could think was that it was absolutely perfect. From beginning to end, Houck's voice crackles with soul, and his down-home arrangements are soothing and familiar without seeming cliché. That being said, there is nothing particularly innovative about the album - chances are, you won't hear anything you haven't already heard from the alt-country genre before. However, To Willie is only one of two albums that Matthew Houck is currently working on. So, while To Willie may not be the album that Phosphorescent fans were hoping for, it is an overall solid album, and it should certainly tide them over until the band's next proper release.
20 January, 2009 - 20:55 — Andy Stewart