Music Reviews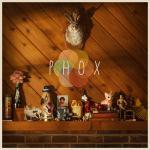 Phox Phox
(Partisan Records)

The late jazz legend Louis Armstrong famously said, "What we play is life." It was a timeless observation that equated music with personal expression – the culmination and synthesis of individual perspectives, experiences, dreams, fears, talents, and inspirations. Louis's been dead for over 40 years, but he would no doubt have appreciated Phox, the eponymous LP from a group of musicians with the extraordinary ability to breathe life, their lives, into a characteristic brand of indie-folk.
More than anything, Phox is refreshingly and revealingly human. They're not a supergroup, they're not from a hipster hotbed, and they most assuredly don't have a 200-page tour rider. No, these are six high school friends from Baraboo, Wisconsin (population 12,000) reuniting in early adulthood to have fun, hang out, and make some music in the process. The situation sunk indelibly into their sound, and the result is an album that feels as effortless, mellow, and carefree as its origin would imply.
For all the communal and democratic pretense, lead singer Monica Martin is the heart and soul of the band (as well as its barber, incidentally). Her voice has the gentle feel of polished silk and fully envelops in its soothing warmth. She hovers in a range around her vocal break and controls the flips to create affecting embellishments, and the timbre is welcoming in its loveliness. Possessing such arresting talent and style, you'd fully expect the queen-to-subjects "thank you very much" between live numbers. Yet her jocular nature and brimming smile prove otherwise. Truth is, Martin never sang prior to Phox and suffered from such severe performance anxiety that the pressure of early gigs sometimes left her in tears. Though she's since come out of her shell (to everyone's benefit), vestiges of that insecurity bleed through into expressive and emotional songwriting. Paired with levelheadedness and gobs of charm, Martin is an undeniable star in the making.
Around her, the band's five instrumentalists craft complementary arrangements substantial enough to add stylistic weight and delicate enough to support (rather than subdue) the mellifluous vocal melodies. From the avian flute trills emulating the call of the Kingfisher to the high-speed guitar strums defying Slow Motion, the quintet provides thoughtful accompaniment that never gets in the way. It's an approach much less Spinal Tap ("These go to 11…") than Radiohead, where everything, whether banjo, clarinet, piano, or strings, is in its right place. The instrumental range extends from near-nothing (Calico Man) to the rollicking, foot-tapping, horn-blasting closure of Noble Heart. Volume and intensity vary greatly between, and even within, each number, as standout track Evil segues from multi-part a cappella harmony into one of the album's most exuberant passages. It's all meticulously crafted, but thanks to an easygoing dynamic, each track sounds somehow breezy and nonchalant.
Put together, Phox can't make it through an interview (or a show) without several unscheduled tangents, outbursts of laughter, and references to inside jokes. They lived together for months before self-releasing two offerings titled, quite appropriately, Friendship and Confetti. Really, what more do you need in their stage of life? Those are the riches of youth, and to this gang's great credit, they're capable of sharing them with us.
8 July, 2014 - 04:18 — Benjamin Jones