Music Reviews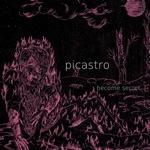 Picastro Become Secret
(Monotreme Records)
Buy it from Insound

Picastro hails from the great land of Canada; Home of maple syrup, Moosehead Beer, curling and one of the greatest indie music scenes on Earth. From Broken Social Scene to Arcade Fire, Canada has spawned some of the most memorable Indie acts of our time. Picastro simply continues this impressive legacy.
Toronto native, Liz Hysen is the heart and soul of Picastro. The songstress and multi-instrumentalist is extremely talented at producing unsettling dissonance with her avant-garde folk rock.
It has been more a decade since Picastro first introduced us to their unique sound, and in that time, the band has gone through many rather monumental changes — perpetual line-up shifts, record label changes and reconfigurations of the gothic albeit warm instrument sounds that surround Liz Hysen's inertia-riddled voice.
On their fourth studio album, Become Secret, Picastro take influence from apocalyptic predictions, grim outlooks and Cormac McCarthy's The Road.
The aforementioned influences inevitably end up making Become Secret, tragic, depressing and unsettling (in respective order.)
Though all the tracks are menacing and share a frightening tone, the most chilling endeavour on the record is A Neck in the Desert. Brooding vocals float weightlessly through the speakers as the strings and piano provide a rich backdrop. A throbbing bass line gives the track a sense of urgency as the strings drift up toward the heavens. And against all odds, there is something strangely stimulating about the whole experience.
Full of sombre reflection and uneasy resolve, Become Secret is without doubt, an extremely dour and gloomy record. But for all of its unnerving qualities, there is something strangely hopeful in the sounds of the instruments. The swell of the strings is as equally terrifying as it is comforting, and Hysen's fragile vocals always contain at least a small sense of peace. Picastro have created a record that is relentlessly bleak but nonetheless a rewarding and enjoyable listen.
21 March, 2010 - 22:00 — Lukas Clark-Memler