Music Reviews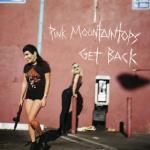 Pink Mountaintops Get Back
(Jagjaguwar)

Anal sex and bear cum - two ingredients of an explicit rap by Annie Hardy (Giant Drag) on the recent Pink Mountaintops chaotic jazz-like freeform explosion North Hollywood Microwaves that will literally have you thinking 'whoa, what the fuck was that!'.
It's like nothing the Canadian collaborative led by stoner rock outfit Black Mountain's undervalued genius Stephen McBean have ever released before and it's unlikely to be similar to anything you will hear again all year. Hardy had "thrown down two mere freestyles" a while back and then forgotten about them, but they resurfaced with a vengeance as the first taster from the new Pink Mountaintops album, the band's fourth long player and first since 2009's acclaimed Outside Love. Their fifth studio effort, Get Back, makes for a fascinating and addictive listen but is, to the relief of the prude brigade, a solitary moment of mayhem amongst a wave of nostalgia that is influenced by the city of Los Angeles (amongst a plethora of other influences).
The list of contributors within the collective will soon require its own Wikipedia page, and this time around, many local L.A. musicians dropped by to add pieces of the mosaic. With members of psychedelic rockers Brian Jonestown Massacre, Sleepy Sun and Dead Meadow appearing alongside musicians from acts like The Fall (Rob Barbato) and Dinosaur Jr's J.Mascis, the melting pot of influences is overflowing. Unsurprisingly, the resulting album covers a mass of ground that calls to mind numerous oldies yet remains refreshingly enjoyable throughout.
Get Back opens to the motorik beat of Ambulance City, a three-chord driving guitar sequence that leads to a punk-fuelled scream of a chorus as the first influence of producer Joe Cardamone surfaces, his suggestion of singing like a 21 year old adopted by McBean; there's also an album name check – intentional or not – in the lyric Station To Station (David Bowie), and intriguingly it isn't the only reference to the past within the lyrics. The Second Summer Of Love (1987 being the year in question) is up next - after a Stone Roses-like (I Am The Resurrection) drum beat intro, another three chord stomp takes shape, and with keyboards fleetingly recalling a Black Mountain moment it feels as if the gap between the bands is closing.
Through All The Worry epitomises the album: it's like a weird hybrid of Oasis' guitars, a Blur chord sequence for the verses (think Country House) and The Cure keyboards, with the guitar solo instrumental break also strangely managing to invoke memories of a slowed down Just Like Heaven. Wheels continues this bizarre pattern, the main descending guitar riff sounding vaguely like a doomy, spaghetti Western version of the melody from Swedish one-hit wonder Andreas Johnson (Glorious), furnished with strummed acoustic and a lazy, nonchalant vocal. Sell Your Soul uses a plink-plonk piano line in early 70s glam rock Bowie style amidst strained whinings and electric guitar touches.
Sixteen marries more racing, punky guitars with spiky vocals and Roxy Music-like saxophone for another intriguing concoction, "teenage kicks" being the latest name check. There's a whiff of Oasis again for the guitaring in New Teenage Mutilation that leads to a simple repeated riff straight out of the 70s rock catalogue, whilst the more upbeat Shakedown sees a short, belting guitar solo appear from out of nowhere as McBean quotes The Cure with "fascination street".
By the time the album closes with the seven minute kaleidoscopic psychedelic epic The Last Dance, with a vocal performance not unlike Damon Albarn, you feel like you've been listening to about ten albums by different artists, not one. Recycling the past is always contentious within music but it's nigh on impossible to produce anything original these days; it's all been done before. But when it's done well, with diverse influences blended together, it's so easy to like if not love, and as such Get Back instantly feels like a long lost friend.
28 April, 2014 - 04:13 — Graeme Marsh