Music Reviews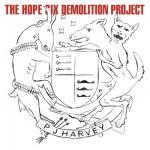 PJ Harvey The Hope Six Demolition Project
(Vagrant Records)

PJ
Harvey is a chameleon. Whether it was the raw punk of
Rid of Me
, the seductive blues of
To Bring You My Love
, the ecstatic pop-rock of
Stories from the City, Stories from the Sea
or the tense folk of
Let England Shake
, each work brought something new. Now, on her ninth studio album,
The Hope Six Demolition Project
, with its horn-infused, kitchen-sink approach, she's done it again.
While the music remains as invigorating as ever, the subject matter has the most direct through line of her discography. If Let England Shake looks at conflicts both past and present from an afar, journalistic view, then this album is up-close and personal. The result mostly succeeds, though it's not without problems.
The record's biggest stumble can be found in its opener,
The Community of Hope
. While the background brass boosts up an
earworm
of a melody, Harvey's lyrics on the urban decay of Ward 7 in Washington D.C. mistakenly ignores the lives of its residents in favor of comments on the infrastructure and a sarcastic line about building a Walmart. The addition of a local Gospel choir, unaware of the song's context, just adds to the problem and poisons an otherwise great opener. Not much better is
Medicinals
, which takes a preachy, judgmental tone on how humanity has ruined nature.
Thankfully, the missteps are mainly limited to those two songs. A stronger effort is
Near the Memorials to Vietnam and Lincoln
, with a folksy guitar, a slow-burning accordion and what sounds like a bagpipe fed through a
theremin
. Lyrically, Harvey points out the juxtaposition of how D.C.'s greatest monuments, for the U.S. President who abolished slavery and the soldiers lost in one of America's deadliest wars, have turned into tourist traps with "refreshment stands" and "plastic chairs."
Some of the most fascinating songs on
The Hope Six Demolition Project
are those where Harvey goes all-in on a different style of music and finds the mood to match.
Chain of Keys
, with its military drumbeat, mournful horns and parishioner backing vocals, sounds like a New Orleans dirge, a funeral song for an abandoned neighborhood.
River

Anacostia
is an enraptured spiritual number, asking for relief from the pollution and storm runoff that infects a nearby body of water.
Just as Harvey brought the autoharp to the forefront on
Let England Shake
and did the same with the piano on
White Chalk
, it's the saxophone that gets its chance to shine on this record. On
The Ministry of

Defence
, the instrument breaks up one of her
grungiest
guitar tones and leads into lines from dub poet Linton
Kwesi
Johnson. On the
bluesy
stomp of
The Ministry of Social Affairs
, the sax bashes its way in with a deranged, thrilling solo.
The strongest songs come at the very end, where Harvey most effectively puts us in the setting she's describing and has the melodies to keep us there. "Now you see them, now you don't/Children vanish 'hind vehicle/Now you see them, now you don't/Faces, limbs, a bouncing skull," she sings over a sinister garage riff on The Wheel. Even more effective is the chorus where she pleads "Hey, little children don't disappear," attaching their losses to the number 28,000, while never explaining the origin of that statistic.
Harvey closes in devastating fashion with Dollar, Dollar, the only two words a begging child needs to say to passing tourists. "I turn to you to ask/For something we could offer/Three lines of traffic past/We pull away so fast," she tragically sings, a moment of doubt where she questions whether being a musician and traveling the world does any good. Even if she sheds light on these issues, will that help change anything for the better? Harvey leaves the question hanging, but proves why she needed to write this album. She isn't sure if a musician can help the world. But it's better to try than to do nothing.
14 April, 2016 - 03:30 — Joe Marvilli