Music Reviews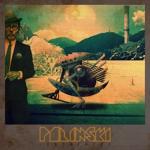 Polinski Labyrinths
(Monotreme)

With the chiptune movement continuing to fetishise the NES and Gameboy, it was surely only a matter of time before somebody turned their attention to the other systems that were around at the time. While, technically, Paul Wolinski of Sheffield post-rock act 65daysofstatic isn't the first musician to do so, he is arguably the highest profile one so far.
Granted, he does do his best to throw listeners off the scent with the opening track 1985-Quest which, as the title would suggest, aims for something a little bit older, specifically, with its gloriously cheap and brassy synth tones, John Carpenter's film scores (thereby continuing his band's love-affair with Carpenter). It's not clever (it is quite big though), but it does raise a smile nevertheless. The album's identity only really starts to come into focus on the second track, recent No Ripcord single of the week Stitches. Like an idea from the classic speculative fiction that Wolinski read in preparation for the album, the song is essentially stadium rock as performed by a Commodore Amiga, mixing melancholic vocoder with rapid arpeggios and the anticipatory drum riff from Dire Straits' Money For Nothing. Somehow it's even better than that combination could ever suggest.
Talking about forgotten computer systems probably makes Labyrinths sound like a bit of a dry prospect, or a pastiche with fairly limited appeal, but in truth the album easily transcends these origins, largely thanks to Wolinski's pop nous (perhaps a hold-over from 65dos' early mash-up days). In the middle of Still Looking's gliltch-fueled frenzy, for example, is a Kylie-worthy showstopper of a hook that feels instantly familiar, in a good way.
All that being said, there is a flaw in the album that's just a bit too big too ignore; there's something of a lack of content. This might seem instantly obvious from a look at the tracklist, as it only stretches to seven songs, but that's not the full extent of the problem. The retro-styled instrumentals do get a bit samey, and don't really serve to flesh out the compelling world hinted at in Labyrinths' artwork, or the captivating video for Stitches (or even the album's title). While every track has its merits, it's the ones that introduce other instruments - the vocals of Stitches and Like Fireflies, or the violin in Awaltzoflight - that make the biggest impact. Kressyda's eleven minute run time also seems rather unnecessary; the justification for pushing a song to that length is that it should develop and take the listener places where a regular three minute pop song cannot, but in this case it really wouldn't be noticeable if several minutes had been shaved off. This could well be the unfortunate outcome of Wolinski's busy schedule, as Labyrinths comes in a rare gap in the touring and release schedule of his full-time band. For the most part though, Labyrinths is an glorious, euphoric experience that does justice to Wolinski's work with one of the UK's most consistently exciting acts; charmingly crafted from some deliberately low-tech materials. Forget the forthcoming reunion of Mancunian heroes The Stone Roses, it turns out that there's a far more interesting early 90's revival going on some forty-odd miles away.
2 November, 2011 - 19:08 — Mark Davison