Music Reviews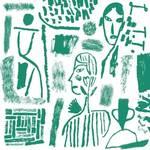 Pool Holograph Love Touched Time and Time Began to Sweat
(Sunroom)

"No rock and roll, no more black and white daydreams," sings Pool Holograph frontman Wyatt Grant on the first song of their sophomore album. Underneath Grant's vocals are two guitars and a bass which chug away with Preoccupations-like furor. Caught in the crevice between post-punk and jangle-pop, the Chicago four-piece is making some of the most appealing indie rock of the year just by pushing themselves towards tighter songcraft and cleaner tones. While their 2017 debut, Transparent World, had striking moments (see Stratus Sheets), most of it felt soggier than needed. An annoying penchant for guitar harmonics didn't help their case either. While those early songs slugged along at a consistent, languid pace, the tracks on Love Touched Time and Time Began to Sweat contain multitudes. From the psychedelic haze of Life by the Power Plant and the folk-rock of Mirror World to the charging Deliverance, there's enough great rock and roll here to dispel the album's opening claim.
The obvious choice cut here is the lead single, Medieval Heart, a song that moves with tense and joyful precision. Midway through, the chorus acts as a diffuser, giving the song a moment of slack before jumping back into clockwork guitar riffs. In the album's press release, the band mentioned their leap towards minimal instrumentation, but this is the sort of taut, cut to the bone, indie rock that's rarely found. While the fuzzy influence of producer Dave Vettraino can be heard on interludes like In a Mist, Vettranino's production thankfully doesn't consume the album, allowing songs like Medieval Heart to flourish. While The Hecks, Vettranino's day job band, are similar to Pool Holograph sonically, he knew to lay off his band's classic noise-rock tones here; a welcome surprise.
Even though it clocks in at 40 minutes, Love Touched Time and Time Began to Sweat manages to cover a lot of ground. You've got the blurry vibe of Asleep in Spain—that features fellow Chicagoan V.V. Lightbody on lead vocals—the acoustic groove of Vanishing Point that flourishes into a more psychedelic sound, and of course, annoying guitar harmonics, which strike again on the excellent August Outline. Despite the wispy lead vocals on cuts like the tired Harbor Lights, this is perfect music for any situation. The sharp post-punk of the album's first four songs sound ideal for an anxious evening drive. The surf-y pop-rock of the closer, Stranger, is tailor-made for sitting on your porch during autumn. By the time hints of piano appear on the closer, there's some real sadness sitting behind Grant's vocal melodies. This is lived-in music in the best way—a soundtrack for your early twenties or thirties with melancholy, personality, and steadiness.

12 October, 2020 - 05:59 — Ethan Gordon