Music Reviews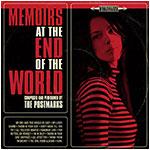 The Postmarks Memoirs at the End of the World
(Unfiltered)
Buy it from Insound

Even if Florida is known as a populous state, there's generally something about the "Sunshine State" that can irritate even an aficionado of city life. There are the elongated highways that cross and converge to connect over long and winding plain terrains that seem to take forever to get from A to B; the high levels of humidity; and the glossy, artificial beach tans that dress some incredibly commonplace beaches. Beneath a fleeting carcass of flamingos and palm trees, a promising band from Pompano Beach dares to be different.
With all fairness, Florida does have an appealing underground circuit like many regions do. They can't be held accountable for being based in a state that brought us so many musical blunders. In fact, many famous Floridians are quite talented, some notables being big-band jazz performer Pat Boone and the always underrated Tom Petty. Of course, the extent of Jim Morrison's talent is entirely a debatable matter.
It was pretty clear from the outset that the Postmarks were demolishing idiosyncrasies and looking elsewhere for some musical enlightenment. Which is considerably understandable, being born myself in a colonial territory that scourges such modern musical landscapes like salsa, derivative pop balladry, and reggaeton. In actuality, that's not as bad as witnessing an ever-increasing hipster crowd that is still trying to distinguish the musical differences between Television and The Velvet Underground. Far worse, figuring out the differences between varying stylistic approaches – boys with their skinny jeans and girls wearing granny dresses. Point being, Florida, as kitschy as it may be, genuinely feels like Florida.
The Postmarks started as a deliberately behind-the-shadows indie pop band with delicate harmonizing, Sunflower-era Beach Boys influences, and playful keyboard touches with slight string arrangements. A bit reminiscent of late era Cardigans and still missing in action Swedish pop act The Concretes, their musical was sublimely beautiful, although it occasionally lacked character. Their light melodies, blended with sophisticated pop attire, proved that they deserved far more than a Saint Etienne opening slot for the rest of their career.
For their second proper full length, The Postmarks have decided to look elsewhere, more specifically, the gritty ugliness of New York City. In their bio, singer/songwriter Tim Yehezkely explains: "I tend to find beauty in things that are dirty and worn down". As much as this may be true, their darker leanings are almost unrecognizable in the music itself, which led to prove that Tim's songs on loss and longing were the real downtrodden musings that painted their characteristically charming melodies. As much as ever, these thirteen tracks still opts for a wide range of dramatics to florid touches of ambient pop.
If there's any indication to that modish album cover, it's the fact that the Postmarks are replicating a different point in time – 60's and 70's film scores to be exact. In the spirit of incredibly influential score composer John Barry, Memoirs at the End of the World has a sound that could recall a long lost theme song between From Russia With Love and Goldfinger. Album opener No One Said This Would be Easy and Thorn in Your Side feature lush string arrangements with orchestrated leanings, merged with noirish surf guitar tremolo techniques. All You Ever Wanted, also arranged in an orchestrated fashion, features a sitar and a trumpet section, to finally fade with some vocal harmonies, making it one of the most accomplished compositions the Floridians have achieved yet. Hollywood producers, take notice. The Postmarks should make the theme song to code name Bond 23. Maybe it'll be the redeeming factor to the unholy mess that was Quantum of Solace.
Even if most will ostracize it as a 60's film score, Memoirs at the End of the World isn't easily perceived. Although their music has shifted from scarcely there to pompously grandiose, the Postmarks still haven't departed from their poppy-ish roots. If anything, they're embracing all the heavy instrumentation to fit their particular inclinations. Lucky Charm, for instance, could've just been a straightforward pop song. Instead, a constant use of increasing piano keys and a rousing use of strings in the last half fit consummately with Tim Yehezkely's warped, faded vocals. Go Jetsetter, first single, features some timpani and a clever harpsichord middle section to compliment some indie pop goodness that could even make Tracyanne Campbell croon. It doesn't end there; The Postmarks had flirted with synth sounds in the past. They encapsulate both past and present with For Better or Worse? and Don't You Know Till you Try, which evokes the perfect mood for a classic French heist chase and even features an exquisite brass section.
Memoirs at the End of the World, as ambitious as it seems, never seems to overstate it's welcome. Even if there's an apparent abuse of instrumentation from beginning to end, it only proves that The Postmarks, as beguiling as they may be, are testing different directions to overpass their just adequate, but not quite there, past. In a time when so many indie-pop musicians are taking a country-ish approach, the Postmarks are forsaking consistency and conformity - thus, taking it to different heights whilst sounding wholly unpretentious. The Postmarks are not just paying homage to their cinematic heroes; they're living them up and having fun with it.
5 September, 2009 - 09:55 — Juan Edgardo Rodriguez