Music Reviews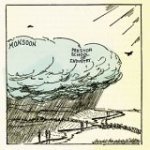 Preston School Of Industry Monsoon
(Matador / Domino)
Buy it from Insound

Emerging as he did from the ashes of one of the nineties' greatest rock bands, Scott "Spiral Stairs" Kannberg's Preston School Of Industry debut, the oddly-titled All This Sounds Gas, was simply never going to be good enough for fans still mourning the loss of Pavement. Even for a secondary songwriter whose role had steadily lessened since the halcyon days of Slanted And Enchanted, ATSG just didn't have the necessary vein of unpredictably or the spark of excitement that even the group's latter day discs often conjured up. Despite my initial praise of the Whale Bones single, I branded the record mediocre. But as was often the case in those reckless days of my youth, it was a judgement I would come to regret over the coming months.
In the end I guess I just needed to live with it for a few months. Only with time did I realise that while far from being a great album, ATSG did mark an encouraging first-step from a talented songwriter adjusting to his new found freedom. Granted, the quality control button may failed Kannberg on a handful of occasions (Blü Sön, Take A Stand) but these minor blips were pretty much offset by a healthy quota of understated gems (A Treasure @ Silver Bank, Falling Away, The Idea Of Fires).
Now, after nearly two and a half years of relative quiet, and with a fraction of the press attention afforded to All This Sounds Gas, Scott Kannberg is back with a new record in Monsoon. But make no mistake, while the public's expectations may have softened, this is in many ways a vital release in Kannberg's career. Where as ATSG was very much about Kannberg's transition from increasingly occasional songwriter to fully fledged band leader, largely involving the reworking of Terror Twilight-era Pavement cast-offs, Monsoon is quite different. With over two years to contemplate the shortcomings of his PSOI debut, Kannberg has had ample time to develop new material and to mature as a solo artist. And, encouraging though the high-points on ATSG were, it was always going to take more in the way of variety, consistency and confidence for Kannberg to succeed this time round.
The early signs are certainly promising. The Furnace Sun treads a similar line to PSOI favourite Falling Away, with a breezy guitar riff nicely underpinned by a simple chord progression and Kannberg's ordinary-yet-likeable vocal. A solid start. Walk Of A Gurl follows, only to become an early victim of poor sequencing. Save for a faint harmonica in the background, it's resembles its predecessor just that little too much to work.
A tempo change is obviously required, and Kannberg duly obliges with an upcoming single and Monsoon's first standout track, Caught In The Rain. A subtle riff dances over another solid Spiral chord sequence, while a smattering of slide guitar leads a shimmering quality to the proceedings. It's a moment of understated brilliance, and arguably as good as Monsoon gets. Conveniently, and perhaps deliberately, Kannberg follows up his ace card with what is undoubtedly its closest rival, the more upbeat Line It Up. Dominated by a (mildly) distorted lead guitar riff and insistent drumming, this track is about as 'heavy' as Preston School Of Industry get. Don't expect metal, obviously, but in the context of the album it's a welcome break.
So, after four fairly encouraging tracks I guess everything's looking pretty rosy for Scott Kannberg and his Monsoon... or is it? You see, for some inexplicable reason, as Line It Up fades to silence, the overwhelming feeling in my mind is that Kannberg is on the verge of running dry. And right on cue, that's EXACTLY what he does. Providing, as they do, the centrepiece of Monsoon, So Many Ways and If The Straits Of Magellan Should Ever Run Dry are about as damaging as you could possibly imagine. One appallingly bland track is just about tolerable, but two? Sandwiched together in the middle of an album that was going swimmingly? That's just cruel.
Her Estuary Twang provides some, albeit it faint, relief before the formulaic Escalation Breeds Escalation (a pro-global disarmament theme? I'm too bored to find out) saps my enthusiasm yet further. Thank heavens then, for Get Your Crayons Out!, then... no, only joking, that's shit too. Sorry, but if the music's not doing it, I have to entertain myself a bit here. Anyway, reeling as I am from this, the second fiercely mediocre one-two blow of the album, I tentatively assume the only for Kannberg now is up. Thankfully, on Tone It Down, he proves me right. Like Caught In The Rain earlier on, this dreamy slow-burner provides a much-needed change of pace; unlike that track, however, it fails to offer us a significant highlight. Then, with the inappropriately optimistic parting shot of "it's alright now", this exasperating record grinds to a fittingly abrupt halt.
As modest an accomplishment as All This Sounds Gas was, I always thought Kannberg would have his work cut out matching it. Sadly, with Monsoon he's only gone and proved me right. There are two great tracks here, three solid ones, and five complete duds. By anyone's standards, that's just unacceptable. With a suitable accomplice to share the songwriting load, Scott Kannberg may yet be involved in the recording of another great album. Working alone, however, he seems unable to provide the necessary variety and consistency to succeed over the course of forty minutes. Which is a shame.
10 January, 2004 - 00:00 — David Coleman