Music Reviews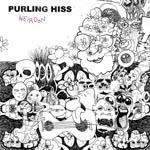 Purling Hiss Weirdon
(Drag City)

The lo-fi thing can be tricky. For some, lo-fi could be viewed as a genre that forgives a certain lack of songwriting and instrumental skill, the genre's overuse of distortion providing somewhat of a safe haven for what some may consider to be hack musicianship. For others, the genre's simplicity correlates directly with the primal intensity that's supposed to remain a core value for rock n' roll music. I'm on either side of the fence with this one because I, as well as many of you reading this, have listened to groups and performers who approach lo-fi from either standpoint. "I like distortion because it makes me sound less shitty than I really am;" "I like distortion because it's loud, spirited, abrasive and is the sonic equivalent of 'fuck you.'" The Stooges, for instance, were seen as the former by critics, but based their sound on the latter. Like I said: It's tricky.
Having said that, certain bands of the lo-fi tradition seem to experience a period of purification wherein the edges get smoothed out a bit and song structures become clearer. Off the top of my head, the best example of this I can think of is Sic Alps who, before they broke up, put out a couple of relatively tame albums that were actually decipherable. I knew listening to those older Sic Alps records (Pleasures and Treasures, U.S. EZ) that the band had it in them to make something accessible, but they'd confirmed it before calling it a day. Another example is Ariel Pink who, juxtaposed with his bedroom output, has found himself a niche making soft rock records that garner Pitchfork's adoration. And, Wavves… well, who cares.
Philadelphia based Purling Hiss have also been making some headway in pulling themselves from the distorto-tar pit and angling upwards into a higher echelon within indie rock's pantheon. The band's newest release, Weirdon, finds none of the obscuring static pushed to the front of early Hiss albums like Lounge Lizards and Public Service Announcement. Even the grunge-centric energy they worked up to with last year's Water On Mars didn't fully materialize this time around. Instead, Purling Hiss (members Mike Polizze, Kiel Everett and Ben Leaphart) rethought their penchant for riff n' roll in an effort to develop their pop sensibilities a tad. Weirdon is a melodic and enjoyable rock album. While riffs continue to propagate some amplified ideal, Purling Hiss reduces the vitriol and grit and allow their arrangements to take more of the listener's attention. This is evident within the first few moments of Forcefield of Solitude. Polizze pulls together a loose and fluid guitar arrangement that grabs the ear and sets a tone for the remaining ten songs, which range from sunny garage pop (Sundance Salon Boogie, Airwaves) and high tempo alt-rock (Where's Sweetboy) to slowed hippie folk (Reptili-A-Genda) and impassioned acoustic balladry (Running Through My Dreams).
While Purling Hiss likely looked to Hüsker Dü, Sebadoh, The Velvet Underground and maybe even the respective canons of their Drag City brethren (the aforementioned Sic Alps, Ty Segall, Six Organs of Admittance and Magik Markers), Weirdon is a well-synthesized work, a look back without a complete abandonment of the now. There's an undeniable "left of the dial" feel to this album, (Polizze mentions "radio" more than once), college rock nostalgia that's adapted itself to an era that should need to fill the void left by the late Jay Reatard, which was the first thing I thought when I heard the lyrically minimal and stylistically bouncy Sundance Salon Boogie. It's pleasant, but crunchy. The rhythm instigates movement from your neck. The punk bent of songs like Slowly Learning, Where's Sweetboy and Aging Faces certainly go further to add volume and some semblance of rampant aggression to the album's make-up.
Aging Silvermoon is one of the more textural numbers in Weirdon, an acoustic jam with country rock licks and scrubbed harmonics that embellish the song's resigned pace. Similar is the suitably electrified alt-rocker I Don't Wanna Be A…, which is also addressed with six-string accents and harmonics. The solo is solid; the hook is one of Weirdon's best moments. Its thematic riff comes off like a sloppy rendition of House of the Rising Sun, chunky and corrosive.
The psych folk ballad Running Through My Dream is Weirdon's lightest offering, with a gentle acoustic strum and sharp accents. For me it's a highlight, its gaze-inducing repetition and vocal melody engaging and lovely. It also sets up well the album's closer, Six Ways to Sunday, whose tone and melody remain emotive and cause the song to border on the grandiose. Comparable to some of the more power pop rock numbers The Men have been pushing these days, Six Ways to Sunday carries the album to its finale with howling guitar sounds and an outward attempt at Free Fallin' level maudlinism. I wouldn't call it a misstep, though. After all, the pop thing can be tricky.
2 October, 2014 - 05:29 — Sean Caldwell