Music Reviews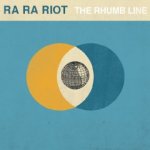 Ra Ra Riot The Rhumb Line
(Barsuk)

Indie rock and strings: somehow, they fit together without much trouble (see Cursive's The Ugly Organ and The Arcade Fire's Funeral for further evidence of this fact.) Ra Ra Riot is further proof of the compatibility of violins and cellos with jangly guitars and upbeat vocal strains, and it is on this simple foundation that the bands bases its debut full-length, The Rhumb Line.

Bouncy (but not bubbly) percussion and string arrangements combine to lend Ra Ra Riot a sense of genuine emotion; Dying is Fine stands out as the apex of the band's style, and it's no surprise it's the first song on the album to be made into a video. The track's chorus is irrepressibly catchy, and the sense of melancholy that may have developed up to its entrance into the album is swiftly wiped away.

The Rhumb Line is at times moody and downtrodden, but it's Ra Ra Riot's ability to pull out of those situations that saves the album -- few artists are truly successful at creating depressing music that listeners actually want to hear often. So, it's with some relief that Too Too Fast, a synthesizer-laden romp, manages to maintain listener interest by injecting some sonic energy into the mix.

Ra Ra Riot has a potential hit on its hands with this debut LP. With a satisfiably diverse collection of tracks maintaining enough energy across the nearly 40-minute release, The Rhumb Line keeps an interesting strain of indie rock from lapsing into another boredom-inducing debut.

Most tracks on the album have a similar feel, despite shifting between elation and sadness with some ease, but that's part of Ra Ra Riot's allure: this is a band with a solid sound, that isn't risked by reckless experimentation. That ability, for most, comes with time -- if it comes at all.
8 August, 2008 - 16:30 — Matt Montgomery