Music Reviews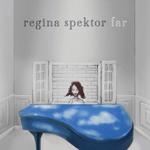 Regina Spektor Far
(Sire)
Buy it from Insound

­You probably knew this girl in high school. She made her own clothes, scrawled in notebooks, was quiet, but vivacious, involved, but only on her own terms. She was different, liked being that way and wanted people to know it, however much she feigned indifference. Regina Spektor is that girl. Intelligent idiosyncrasies shine through on her third proper album, even through the swaths of overbearing production laid on by four heavyweights.
For some reason Jacknife Lee, David Kahne, Mike Elizondo and Jeff Lynne (!?) act as producers here. It goes without saying that her sound has lost a significant amount of intimacy with fuller, syrupy arrangements. Even with four producers whose combined credits are endless, it winds up sounding homogenized. Eet is the perfect example of a song that starts out humbly enough with Spektor's sole piano but gets weighed down by production grandeur that would fit fine on a Celine Dion record. I don't think that's who Spektor aspires to be. If people got out of her way, she'd be better off.
For every successful number like the bouncy Folding Chair, which comes complete with Regina's dolphin sounds, there are clunky mid-tempo throwaways like Human of the Year or the dark and noisy Machine that sound forced and lack memorable melodies. Laughing With is one of the somber exceptions that exercise her strengths well. Using cereal box theology and solemn naïveté she sings about God and Jiminy Cricket, and it comes off as perfectly endearing. Her strategy fails on Wallet, a story about Juicy Fruit, Blockbuster cards and crumpled receipts. It doesn't resonate as an exercise in wit or as a charming confection.
Spektor wants to make you laugh and cry at the same time. This is one of the hardest things a writer can strive to elicit. She did it tactfully on Begin to Hope and Soviet Kitsch. On Far the feeling is obscured and is not strong enough to stretch through the full album. When one emotion is tapped clearly and effectively, trying to coyly wrangle the opposition can be diminishing and make it all seem slight. We don't need dumbing down and we certainly don't need another version of Kate Nash.
Regina Spektor is clearly good enough to take herself more seriously, with One More Time with Feeling we see her true capabilities. She doesn't trip over her eccentricities here, but keeps her voice resigned and less showy. The song's dynamics shift and her lyrics are vague, but carry a heartfelt sentiment. Far has too little of this and winds up being a mixed bag. Maybe it was the peer pressure put on by her big-name producers. Like that girl you knew in high school, you have to rally for Regina even when she's misguided, whether the fault be her own or the doing of others.
3 July, 2009 - 09:21 — Brett Oronzio