Music Reviews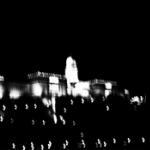 Richard Youngs Amaranthine
(MIE)
Buy it from Insound

In the poet John Ashbery's collection of nonfiction art pieces, titled Reported Sightings, there's a piece called "The Invisible Avant-Garde," which was a lecture Ashbery gave at the Yale Art School in May 1968, under the premise of it being an "attempt to explore the phenomenon of the avant-garde in present day art." More than forty years later, Ashbery's lecture still pertains to today's avant-garde, to today's avant-garde music, to the avant-garde music of Richard Youngs, and to his new release (out on MIE) called Amaranthine. But, just as it always has, and always will, everything about today's avant-garde has shifted; Ashbery's argument demands reappropriation. It's not just its new electronic body (or absence of that body) that the avant-garde has to get used to, it's also so many other things, so many other, difficult, abstract nouns. It's even a pronoun: she is the avant-garde, they are the avant-garde. Like a tide, it recedes and advances, (it disappears and resurfaces); like the cliched metaphor of being a tide, it's dead; like the cliched metaphor of being reincarnated, it's reincarnated. One can subscribe to it, follow it, re-blog it. One can store it on a harddrive, or shove it in a cabinet, or leave it out in the backyard, pinned to a clothesline for days, years, months – each act centered in the faith of its own bewilderment. But will it ever really attain invisibility? Is the avant-garde really invisible?
"To experiment was to have the feeling that one was on the outermost brink," Ashbery says in his lecture. Ashbery's context – a young poet in the middle of the 50's, part of the "school" now known as The New York School – is important to absorb here. ("There was in fact almost no experimental poetry being written in this country, unless you counted the rather pale attempts of a handful of poets who were trying to imitate some of the effects of the French Surrealists," he says.) Right or wrong, that phrase, "outermost brink" is the most intriguing; it invites the presence of a landscape – mapped or unmapped, 2D or 3D, audio or visual – that is equal parts no man's land and Densely Populated Underground: the City of ____, the Street of ___, the Mind of ___. This outermost brink is a place, existing both in the artist's mind and in the artist's work – existing both in Richard Youngs' mind and in his music.
The avant-garde is "alive and well," and we have our evidence: just go on to Discogs and look at Richard Youngs' page. His statistics are prodigious: 52 albums, 11 singles/EPs, 5 miscellaneous, (whatever miscellaneous means.) His "credits" total out to 73, the earliest being a tape, Omming For Woks, that he recorded way back in 1984 on the label he used to run, Jabberwok. The first sentence of his two sentence profile is "long-running UK experimental musician, specializing in drones." "Experimental musician." That's the weak (optional: tired) signifier of the double transformation of the tradition of the avant-garde versus the tradition of the traditional. Just that word, experimental. It determines so much. How we listen. How we think while listening. How we listen while thinking, how we think before listening. And what we think of Youngs, half-smiling in a dark raincoat, surrounded by lush, verdant English forest on the cover of the September 2005 issue of The Wire.
On Amaranthine, there are no drones. Its four songs range from six to ten minutes, and could be described – if one has a need for the description – as an acidic blending of UK troubadour-folk and lo-fi free rock, mixed with an infrequent and indeterminate amount of early 70's Ian Anderson-outsider prog theatrics. Youngs sings within the metallic fuzz of his mutable Sturm und Drang: the ugly feedback of his electric guitar, unrhythmic drumwork, the inattentive shaking of a cabasa, and other you-guessed-its. Rhythms intersect at unseen junctions. Vocals are over-dubbed, over-layed, and overturned, simulating the violence of a game of Whac-A-Mole. The third track, Everybody Needs a Sword features an almost-six-minute free-for-all shakuhachi solo, by far the most interesting moment captured on the record.
But is this experimental, is this avant-garde? Is Youngs' self-knowledge of "being experimental" a lasting reminder of itself? The field, divided between the retromaniacs and the traditionals, leaves only a meager fox hole for the experimenters, for the Richard Youngs. But a fox can always dig deeper into the ground; what's my avant-garde may not be your avant-garde. In a wider matrix, Youngs' experiments on Amaranthine are a noble contradiction of musical experimentation itself, not only because Youngs has repeated himself, but also because they invite a constant categorization, escaping what the essence of what avant-garde really is – that of an artist un-compartamentalized, because their work, at its core, both dodges associating with anything before its existence, and avoids the dangerous potential of being absorbed into the academic (which is what happened to Jackson Pollock, Ashbery explains). Amaranthine not only brightens the fences surrounding the tradition of Richard Youngs, it invites association: I can think of Jandek, Derek Bailey, Bill Orcutt – three names just enough that flow out into the bigger sea of free jazz, modern composition, and free improv occurring everywhere, past and present.
The engageability that makes it possible to enthrall Amaranthine as another experimental record is distorted in our culture of over-saturation; or in other words, since no musician is left overlooked, the maxim of "there's nothing a listener wouldn't be able to listen to today" is a paradox, because as the music offers less rigid demands and more recklessness, our ears become harder and less willing to be moved by it, our emotions do not sway in its thrash. No matter what, Youngs' output won't be destroyed by being unacceptable; he seems content doing whatever he wants, taking any stylistic turn and floating on the raft of any idea, even in shark-filled, murky waters. (Ultrahits is, in reflection, his most interesting album to date. It finds him submitting to the idea of what's good and traditional, and, inherently, what is sustainable, listenable, talkable. At the same time that it isn't "typical Youngs," it exudes nothing but him, another version of him.)
When Ashbery says, "it is the fate of some artists...to pass from unacceptability to acceptance without an intervening period of appreciation," he could be describing Youngs, who by simply aging, ages into tradition. The avant-garde may not be dead, but it certainly isn't anything on Amaranthine. Experimentation – it's a high wire that Richard Youngs will have to learn how to tiptoe on again.
10 January, 2012 - 10:35 — Michael Iovino