Music Reviews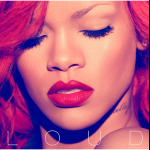 Rihanna LOUD
(Def Jam)

On the lucifugous, black and white cover of Rated R, Rihanna was literally and figuratively, a woman battered down. With weighty themes pouring from the blond-spotted beauty, the world saw the heavy cracks of a young woman defeated. But her music only partly portrayed this; the Carib-pop gem Rude Boy lashed out and thus, a summer hit ensued, giving us hope of Ri-Ri returning to an effervescence she once held.
And now she's just… in all meanings of the word and befitting for the title of her fifth studio album, Loud. And she ain't taut with contempt, she's boisterous. She's expressing her evolution from the dark phase and saying, Look. At Me. I'm doing alright. And hey, Rihanna, we see you. We got it. You look good. Bragging red locks and a model frame, there is an obvious progression from the stormy and twisted to the sassy and piquant, in effect.
Sonically, her album is bringing attitude with fiery tunes and catchy island vibes that have been missing since Music of the Sun. Her past 3 albums have been so jumbled with pop, rock, R&B, and dance, there were times when her Caribbean swag appeared mute, or lightly touched upon. As deft as her writers and producers are for churning pop hits, songs that coax the island gyal out are effortless and prove to be the most memorable. On Loud, this is all the more apparent.
Her second single, What's My Name has a flirtatious, simmering Rude Boy vibe, with the brazen Drake turning "soft lips" into a 69 joke (like we didn't know you were going to there, Drizzy) and Rihanna countering with her own unabashed layering (Not everybody, knows how to work my body/ Knows how to make me want it/ but boy, you stay up on it).
Man Down, co-penned by another Barbados native, Shontelle Layne, is like the background track to a Cops episode, reflective of Bob Marley's Bad Boys. It saunters with a rocksteady rhythm and wailing sirens, but the urgency in Rihanna's voice describes an impulsive decision turned lethal. The highlight is her patois cadences that hasten towards the end of the song.
Her accent is strongly showcased in the happy-hour sing-a-long, Cheers (Drink To That). Underneath the yowling of Avril Lavigne's "yeahs," the camaraderie of bar-hopping and drunkenness is captured with Jameson liquor and Coyote Ugly references. Rihanna's vocals rumble like the effects of alcoholic beverages whittled it down to a Lady Saw imitation.
The rest of the album still covers the bases with pop smashes and rock ballads, but pinches her mobility as a singer. Many have noticed her lack of cohesiveness from recording to live performance, but her attempts on sensitizing dampens the mood of the album. California King Bed yawns with a Taylor Swift-like coyness and tepid guitar solos. Lady Antebellum would've done it better (California dreaming, really?). Her vocals are stretched in Complicated, but the track is weakened by the adolescent vacillation over boyfriend issues.
There is a clear aspiration for this album to be ubiquitous, and well, overbearing with tunes. Rather than follow the typical pop formula, Rihanna gives an album specifically catered to where she is now with her career, music, and life. And blaring seems to be the point.
21 November, 2010 - 15:55 — Genice Phillips