Music Reviews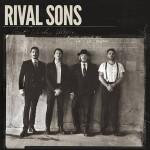 Rival Sons Great Western Valkyrie
(Earache)
Buy it from Insound

Today, it's all too easy to listen to blues-rock music and dismiss it as merely a tribute to its former heyday. The grooves patented by the likes of Led Zeppelin, The Rolling Stones and Hendrix are generally associated with the classic rock and progressive blues of the 60s and 70s, but with the help of Jack White, The Black Keys et al., the last few years have made it relevant once again. L.A. quartet Rival Sons have been quietly channeling their own brand of sun kissed blues-rock since their self released debut LP in 2009, achieving near perfection with 2012's Head Down. It was a record that paid tribute to half a century of classic rock with the utmost reverence and humility, and certainly didn't compromise. Their 4th LP comes along and is more of the same, with sashaying rhythm sections laying down foundations for irresistible garage-tinged hooks and soaring vocals. Rival Sons pull no punches, and rehash a retro-rock past into a seductive modern day panegyric.
Great Western Valkyrie explodes out of the blocks in very similar fashion to Head Down, and showcases everything that earned that record such critical acclaim with just as much poise. Electric Man is this record's Keep On Swinging, detonating a huge, fuzzed-out riff that exudes an enormous amount of confidence and swagger right from the outset. Lethargic drums govern the track's advancement before Jay Buchanan's sky-soaring vocals take centre stage. This is a frontman who has incredible power and is a true exponent of the voice as an instrument, and by Rival Son's 4th LP, the world of music journalism must have ran out of superlatives for his vocal capabilities. His towering, fervid blues howls are tools enough to put him in an elite league of iconic vocalists, with the range of Chris Cornell and the soul of Bill Withers. He really is that good.
With regards to the tracks of the record themselves, it's the same blueprint resubmitted again following a minuscule tweak here and there. Highlights come most notably with Secret, perhaps the heaviest track the band have written thus far, and Play the Fool. A proto-metal riff pounds the track's movement forward before a chorus with a typically gigantic hook allows Buchanan to arrogantly deliver his statement. Play The Fool showcases everything that is dynamic about the band, with soul concentrated in the form a Motown groove. Scott Holiday taps into his endless supply of marmalising riffs, as he does effortlessly throughout Great Western Valkyrie, channeling Hendrix from the grave in the process. The record finishes extremely strongly, with the gallant, spirited Belle Star paving the way for Where I've Been. The sister of Head Down's mawkish and defiant Jordan replicates the motif of a gorgeous chord progression providing a canvas for Buchanan to showcase the other side of his howl. Sprawling closer Destination on Course is tinged with psychedelica, which stays suppressed for the most part by the imposing blend of intrepid blues-rock.
Rival Sons have shamelessly tipped their hats to just about every limb of classic rock so far in their back catalogue, and there's no change with Great Western Valkyrie in that respect. It's well worth reiterating that the Rival Sons sound has been, and still is, brimming with freshness despite its flagrant recycling of well-practiced hooks, but when a given blueprint remains rigid and lacks deviation, it becomes absolutely imperative that the product and its execution is exemplary time after time. Their ability to nail their art over and over is all the more impressive when considered the volume of influences channeled, but the strength of the band's rhythm section is a key factor in their ability to do so. Great Western Valkyrie is the first record with bassist Dave Beste, following Robin Everhart's departure from the band, but his collaboration with Michael Miley is every bit as conversant as the original pairing. Gutsy grooves have become the band's trademark, and when coupled with Scott Holiday's endless conveyor belt of pulverizing riffs and Buchanan's colossal vocal performance, the result is every bit as tangible. This is a band that oozes confidence, strutting through their records like an especially self-absorbed peacock, and rely entirely on the quality of their output to force the envelope of modern rock music to stay awake by incubating the influences that have shaped its landscape, and keeping them relevant in the process.
There's no hiding the fact that Rival Sons channel a game plan that has been done before, but the quality of their output, and the reverence with which they honour the sounds that they throw liberally into their melting pot, makes their harvest relevant and hugely impressive. The grooves are as gutsy as the Zeppelins, Stones et al., and the pounding riffs are consistently the nucleus of the huge hooks that typified the era that they are audaciously tapped from. Rival Sons are keeping this limb of classic rock relevant with their own dynamism, and are building a back catalogue of immense quality.
4 June, 2014 - 04:22 — Carl Purvis