Music Reviews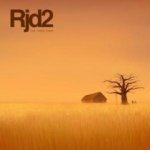 RJD2 The Third Hand
(XL Recordings)
Buy it from Insound

The Third Hand completes something of a triumvirate for me. A triptych, if you will, of avant-soul releases that have winged their way just under the radar of popular acceptance with their wilful use of the way-out, their seeming simplicity matched with a refusal to slot neatly into any traditional category.
2005 was Jamie Lidell's year, with the breathtaking combination of Al Green's soul and Warp's electronic manifesto that was Multiply. How that didn't propel Lidell to the highest echelons of popular success is largely down to his steadfast adherence to Warp, a label that insists on never matching the lowest common denominator required for commercial breakthrough. 2006 saw Matthew Herbert, his wife and 635 instruments come out of the blender with Scale, a dizzyingly inventive soul/funk record on !K7 that was elegant and sophisticated, yet as per Herbert, subversive and just a little bit dazzling.
XL sees 2007 as the year of RJD2, with its high-profile new signing looking set for big business, because they see The Third Hand as completing that trio: a set of rootsy soul-gospel, out and out pop and cut-up hip hop that blends extremely tastily together. The Third Hand seems to distil a lot of the more out-there aspects of RJD2's previous work into a fully accessible blend, a grouping of nine pop songs with a distinct edge above what everybody else is doing in the field. Some might see the Neptunes' slightly sinister manipulation of the likes of Justin Timberlake as the pinnacle of erudite, knowing pop, but The Third Hand should certainly give them a run for their money.
The appeal of the album covers several bases: firstly the elegant sampling techniques and almost unnoticeable ephemera that add up to such a polished product will pique the interest of the more intellectual consumers of this day and age, while the outright accessibility and simplicity of structure of these songs will appeal more to the subconscious that is so often caught tapping it's foot to a Beyoncé track.
Take the bookend songs, for example, You Never Had It and The Evening Gospel. After a short introductory track, You Never Had It begins with a twinkling arpeggio before kicking in the sort of funky, organic bassline that Scale had by the bucketload, but there's also the chopping and changing of all sorts of subtle extras that make it just a touch more cerebral than obvious descendants. The Evening Gospel ends things in the same way, RJD2's tastefully harmonised vocals over an electric piano part winding things down subtly and delicately.
So RJD2 has shifted both forwards and sideways on his new label - inventive and unique he may still be, but there's genuine commercial potential now. While the record isn't perhaps as instantly impressive as Scale or Multiply, there's much to enjoy on The Third Hand for an appreciator of the finer points of this thing we call pop music.
14 February, 2007 - 19:49 — Simon Briercliffe