Music Reviews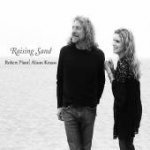 Robert Plant & Alison Krauss Raising Sand
(Rounder Records)
Buy it from Insound

What a delightful album this is. I'm no devotee of solo Plant, but it seems to me that he's at his best when he's not trying to recreate the Zep glory days but instead indulging his passions, and this is the important part, in his own way. There's no way his aging voice could compete with the banshee yowl of his halcyon days and he ain't about to find a backing band like the one he had, so why bother? Think of the distinctive sound of his early singles, Big Log and In the Mood, and you'll see that Plant was not just a vacant frontman but a vital contributor to what made Zeppelin great. And you'll also note that he has his own unique musical voice to rival his unique vocal style. So on first listen, and depending on your perspective, it may seem like Plant has met Alison Krauss, bluegrass' leading light, on her own doorstep. But dig into this set and you'll see that in fact he has yanked her off the porch and right into the swamp.
You could hear the collective "huh?" that emanated from the mouths of Zeppelin fans when they first heard about this pairing. A straight bluegrass songstress teamed up with the prototypical cock-rocker? WTF? But then we remembered the Honeydrippers, and Zeppelin III, and Going to California and especially The Battle of Evermore, his fantastic pairing with Sandy Denny, and things started to make more sense. But who thought the pairing would be this natural or this successful? From the little I know about Krauss, she sounds far from her bluegrass roots in tone if not instrumentation and I think this can only serve to enhance her reputation. The song choice here is critical and the seamlessness with which a Plant vocal melds into a Krauss vocal forces us to assume that they were of one mind on this score.
Credit also has to be given to the backing band and especially producer T-Bone Burnett for his backwoods sound, but it's a rare group of artists that can make you listen intently to all 5 minutes 39 of Polly Come Home, whose tempo is not quick enough to merit the descriptor "snail's pace".
Many of the songs here are textbook slow burners, and are only enhanced by great performances from the stars. Has Plant ever delivered a sexier vocal than the one on Killing the Blues? And with Krauss seductively caressing his lead with harmonies, Christ, it sounds like these guys recorded this one in bed. Plant returns the favour on Sister Rosetta Goes Before Us, hovering with wordless backing vocals around Krauss during the verses. Some of the best work here obviously recalls the classic Parsons/Harris pairing, though Krauss is not as confrontational a singer as Emmylou was on those records and so she is never in danger of overwhelming Plant the way Harris could on songs like We'll Sweep Out the Ashes in the Morning. That pairing sounded like a meeting of strong personalities, while this sounds like a seduction, a love affair.
This collection is simply a joy to listen to, with great singers lovingly rendering great songs with a talented producer at the helm. My favourite is the most effortless. Gone Gone Gone (Done Moved On) was a minor mid-60's hit for the Everly Brothers and sounds like an old pair of Robert Plant's shoes, right up to the moaning "well, well, well" outro. But the whole album feels that comfortable and comforting. It's not breaking any new ground or making any great demands, yet it nevertheless remains a minor triumph.
5 November, 2007 - 00:00 — Alan Shulman