Music Reviews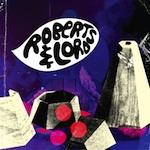 Roberts & Lord Eponymous
(Asthmatic Kitty)

Simon Lord and Rafter Roberts, both with respectable careers underway, combined to create a cluttered, clever collaboration. Their unique take on pop music comes out in full force on their debut, Eponymous.
This is less a debut than it is a first collaboration: Simon Lord and Rafter Roberts have been releasing music for the better part of the last decade, the former having key roles in English groups Simian and The Black Ghosts, the latter largely on his own as Rafter, though Roberts has also worked in production and engineering.
To say Eponymous is not a debut is misleading, as the two hadn't worked together before the release, but it carries that this is an album that doesn't much sound like a debut. It lacks the usual trappings — the unrefined, unassured qualities you'd expect are largely absent — but it also lacks the exuberance that your exciting debut carries. Its weakness, as they say, is its strength, and it sort of evens things out.
The method of collaboration is unfortunately a bit dubious — the two met over MySpace and exchanged material via mail (in a move that unfortunately is forced to echo the work of The Postal Service), with Roberts recording backing tracks on tape and Lord adding vocals and some of his own arrangement. It doesn't sound so detached, but at the same time, it doesn't exactly click. There's something subtle missing, though I'm not sure being in the studio together would have made terribly much difference.
That said, the two managed to bring out good elements from both of their styles, and the result is a cluttered-but-clever pop mess. It's filled to the brim with acoustic guitars and synthesizers, but the percussion makes the biggest impact on the style. The drums and electronic beats add a degree of excitement and unpredictability to the whole matter, betraying typical pop sensibilities by being quite high in the mix. Whether handclaps, thumps or a traditional rock kit are being used, the percussion has a vaguely out of place feel — and it is perhaps that which unites Roberts and Lord.
All of the instrumentation follows in that same vague direction, with some unusual choices being made and some unusual instruments being used (the penny whistle on "Bottom of the Bottle" and the Galaga-like noises in "Purple Doves" are notable examples). It combines in a neatly evocative approach that never moves toward needlessly exotic or mundane. And the two clearly have a good grasp of melody and harmony, and thankfully that's paired with an ability to cut through the noise to reach the vocals.
So, if everything works reasonably well, why does this sound like its lacking something important? It is perhaps the result of long-distance collaboration: Minute refinements aren't exactly an achievable goal under such circumstances, and sometimes minute refinements are needed to take something effective and turn it into something breathtaking. Eponymous just never quite reaches that point. Of course, when two established musicians collaborate, heads often clash and things get lost in the mix. If there's one thing this shows, it's that Simon Lord and Rafter Roberts can at least put together an effective album. There is, after all, that.
13 September, 2011 - 11:52 — Matt Montgomery