Music Reviews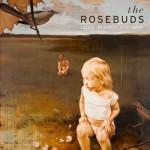 The Rosebuds Loud Planes Fly Low
(Merge)
Buy it from Insound

The chronicle of a relationship and (unsuccessful) marriage, The Rosebuds's catalogue thus far has dabbled in the ecstatic wonders of a new love and explored the dark depths of when the shit hit the fan. Their 2008 album Life Like was unusually upbeat and poppy for the last album to be recorded during their marriage – perhaps this was their swansong? Regardless, The Rosebuds have settled into a sobering melancholy after leading duo Ivan Howard and Kelly Crisp's divorce. Enter Loud Planes Fly Low, an album that focuses on stripping away the superfluous clichés of such emotional separation (though not many clichés exist for a couple that still make albums in their post-divorce career) and digging at the raw nerve of marital failure.
One striking characteristic of Loud Planes Fly Low is Howard's perceptively vague lyrics and the shrill chill of some of his utterances – what they mean exactly, I'm not sure. But he has developed a way about lyrical obscurity that would do The National's Matt Berninger proud. What makes the line "she's my sister and she floats like a bird in a canopy" so haunting isn't clear, but whatever it is has to do with the minimalist atmosphere of a violin and keyboard accompanying the song. The pulsing single Woods is driven with a toy piano, bringing a desperate Howard and Crisp to their knees in the wake of a crumbling marriage and a broken sense of childhood innocence. Yes, it's melancholy galore.
It seems that Howard's input is dominant to Crisp's in quantity (one of the obvious shortcomings of the album), but not so in quality. The Rumours-era Fleetwood Mac influence is more than evident in Come Visit Me, bringing a very subtle groove to Crisp's lyrical paradox: "I need you to save me, even if it makes it worse." I could only wish that Crisp's voice could make more of an impact on the album, especially considering that the sole contribution of Come Visit Me makes her out to be not herself, but a projection from Howard's distraught imagination. Perhaps it's not fair to judge the entire album based on the assumption that it's written as a narrative based on the band members' (presumably bad) experience, but at the same time I find it difficult to read the transition between Life Like and Loud Planes Fly Low without considering some plausible biographical details.
I think this installment in The Rosebuds catalogue marks their strongest yet, albeit the darkest of their career. Howard has made a slew of lyrics that, in their vague interpretation of his conflicted reality, are at heart universal. Of course, there's the issue that you may not know what exactly "Cover ears/Loud planes fly low" means in Howard's experience – possibly a nod to denial and its appeal in light of such traumatic happenings – but its vague nature allows for anyone to find some residence for their heartbreak. It's just unfortunate that in this stretch for universal appeal, The Rosebuds have also made some of their songs difficult to decipher from the output of other folk-rock giants such as Band of Horses or Guster. Either way, Loud Planes Fly Low has heart and soul to it, both very familiar with wells of confusion and despair; unfortunately, it's not the first heart and soul to chart these depths.
7 July, 2011 - 07:03 — David Hogg