Music Reviews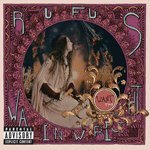 Rufus Wainwright Want Two
(Dreamworks)

Open a newspaper supplement, turn the TV to a vaguely art-concerned channel, flick the radio dial off the lowest common denominator station in the UK at the moment, and you are almost guaranteed to either catch a glimpse of Rufus Wainwright's only-just acceptable mullet or hear his strange staccato laugh punctuating a story about growing up in a family of folk royalty or being buds with Sir Elton. Such is the publicity juggernaut surrounding the crown prince of arch pop's latest release, it is a surprise to discover one of his least accessible albums to date.
Blessed with the talent for wry takes on humanity of dad Loudon and warm wit and sense of musical tradition of ma Kate McGarrigle, and influenced by stints studying opera and being blinded due to excess crystal-meth intake, Rufus Wainwright is truly one of a kind. Over his previous three albums he has created a unique space for himself in the musical landscape-blending pop, folk, and classical styles to create three records regularly namechecked by critics, music stalwarts (Michael Stipe and KD Lang), and newcomers looking for a little songwriterly caché (Keane). On Want Two, Wainwright makes no grand departure from previous outings, but rather he reduces the blend. On the early albums, tracks would readily contain elements of all his influences, Want One saw the beginning of the separation, and on Want Two he goes all the way to produce full-blown arias and single-malt folk numbers.
In interview, Wainwright commonly expresses a desire to make it big, and looking at the form he should. But, one can't help feeling that the mainstream is unlikely to take to an album opening with a nearly six-minute setting of the catholic chant Agnus Dei. The baroque Little Sister and pastoral Hometown Waltz increase the mix of song styles, and that these fit together on one record is a mystery. The themes are as diverse as the styles, The Art Teacher handles schoolgirl crushes, Peach Trees captures the loner's desire for romance, and The Gay Messiah are pure protest. The latter track, about the arrival of a liberal saviour for the USA, contains the most jarringly lewd lines "No it will not be me, Rufus the baptist I be. No I will not be the one, baptized in cum" delivered as though butter wouldn't melt.
Amid all the grandiose arrangements and carefully crafted lyrics, Wainwright's primary weapon is his voice. At times, the full operatic match for the orchestra behind it, at others, on The One You Love for example, so intimate he could be singing softly into your ear offering to make you breakfast in bed. Intricate vocal backing from sister, mother, aunt, and cousin lift Wainwright's voice rather than smother it. And on An Old Whore's Diet, Wainwright meets his vocal match in Antony (of And The Johnson's fame) in a camper than camp duet.
With his outspokenness, songs of protest, and dressing in drag on the cover, this album is unlikely to convince new fans in much of the United States, and the mixture of styles, although daring, could deter casual passers from taking to him on this occasion. But it's their loss, because this is a bold, brave, and beautiful record.
23 March, 2005 - 00:00 — Peter Hayward