Music Reviews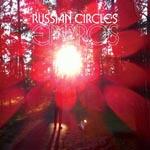 Russian Circles Empros
(Sargent House)

309 is the first track. You hear doom-laden riffs; colossal and reverberating trails of sound that wallow and float so clearly they almost generate vivid arterial colors in your mind's eye. Chunks of bass tone are pounded out above the ever-widening array of sounds, Sabbath-borne severity meets your ears and behold: Post-rock's Russian Circles introduce the genre's ethereal floating nuance and grace to a patch of asphalt and happily rubs its skin raw against the flawed and unforgiving surface.
The band's fourth album, Empros, seamlessly threads together a mire of unmitigated sonic emanations with a consciously utilized sensitivity to sound and beauty, crafting a less than monotonous or laborious listen. I liken it to either The Valley Path by U.S. Christmas or Grails' 2008 release, Doomsdayer's Holiday, both of which are dark and clad in Tony Iommi's wisdom but also attentive to their specific purposes and identities. Empros is more of a suite than an album and Russian Circles attempt to brandish their wares in a discernible manner, splitting off from the mere conjuring of predictably pretty soundscapes.
That isn't to say, though, that there isn't a level of pretty Russian Circles ably achieves. Mladek is all wonderment till guitarist, Mike Sullivan, makes a move toward chords, his initial arpeggios and the song's anthemically charged introduction sounding inspirational as opposed to determined or haunting. Before you know it, though, the tone shifts and the music takes on shades of grey, whatever glow it had now fascinatingly overcast.
Empros will run its course before you know it. Russian Circles' transitions are seamless, their set-ups patient. The coupling of Schipol and Atackla centralize the band's lush instrumentals and heightened sounds, a generous amount of time spent to justify the band's louder moments. Once Atackla establishes its stride, time shifts and percussive attacks are explored. Leading up to Batu a variety of feedback'd wisps and hums float through the air as if to generate some comfort before the tuning drops with the weight of a sledgehammer. Bassist Brian Cook runs his lines like his fingers weigh ten pounds leading to a drum assault from Dave Turncrantz.
Praise Be Man, the album's sole vocal track, is preceded by the only pause at song transition. A ghostly folk number, Russian Circles close out the song with Sunn O)))-evoking bass drones, the album's quietest moment radiating like a proud solar flare and ensuring that any step toward absolute gorgeousness finds itself a tad damaged.
27 October, 2011 - 06:42 — Sean Caldwell