Music Reviews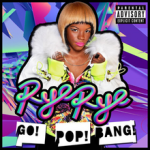 Rye Rye Go! Pop! Bang!
(Interscope/N.E.E.T.)
Buy it from Insound

Given the three-year delay in this record's release date, I figure it's only appropriate to give you an extremely belated review. That's how I like to justify my procrastination, anyway. To be fair, though, all that extra time gave me a chance to shake off my initial excitement and become totally disillusioned. If I'd been on time, I would have given Rye Rye's debut an 8/10. Sadly, it just doesn't deserve it.
Humor me in this awkward segue. I think that the almost nerve-wrackingly long delay in Go! Pop! Bang!'s release was its own downfall. The record was slated to come out in 2009, when Rye Rye was barely out of high school. Since then, M.I.A., who started the N.E.E.T. label and signed Rye Rye as her first artist, has had time to overwork the album to death. Not only does M.I.A. make her presence unmistakingly known (as is her right, of course... but Sunshine is a little too on the nose), but the entire record is fat with featured artists and producers. RedOne (Lady Gaga's infamous producer), Robyn, Akon, and Blaqstarr all make cameo appearances.
Normally, I'd say there's nothing wrong with an overabundance of collaborators. But to me, the beauty of uber-young electro-pop artists is how hilariously lo-fi their tracks are. I want them to sound home-made. I want to get excited about their own work before every release is bloated with much more famous featured artists. They can't help but steal the show, and Rye Rye needs to be in the limelight on her own debut.
In fact, with one notable exception (Shake Twist Drop, which features Tyga, is by far the best track, and may have earned an extra point on the 0 to 10 scale all on its own), the best songs are simplest. Holla Holla feels much heavier on the beats than the overproduction. And, although it may sound a little too M.I.A.-influenced, Drop is a fantastic, psych-up album opener. Meanwhile, the cloying, teeth-gratingly annoying hooks on DNA, Crazy Bitch, and Never Will Be Mine are nigh unlistenable. They reduce Rye Rye to a generic euro-club act. Not to say that Rye Rye shouldn't be absolutely blasted in clubs, but in that case, "Dance" is a much better representation of her talent. It's unabashedly, unapologetically fun, but most importantly, it's nothing but Rye Rye: "I get naughty/I get crazy/I get sleazy/but never get lazy." Fucking awesome.
Don't get discouraged. Go! Pop! Bang! is a fun album, even when it's suffering from the too many cooks syndrome. I just hope Rye Rye asserts more control over her next release.
12 June, 2012 - 09:10 — Gabbie Nirenburg