Music Reviews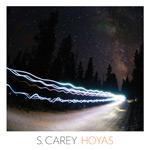 S. Carey Hoyas EP
(Jagjaguwar)

You might be one of those people who looked forward to Merriweather Post Pavillion as the blend of folk and ambient electronica that the world was waiting for. You might have ended up disappointed by a consistently overrated album that you kinda liked but ultimately found ever so slightly annoying, apart from My Girls which was pretty good. You might have taken solace in the reverb of Bon Iver. But you probably missed out on Justin Vernon's drummer's solo work. Don't worry; he's nothing like Phil Collins.
Quite annoyingly, the shadow of Bon Iver looms large on Hoyas. Normally when a bandmate takes some time to focus on a solo project, they avoid the same sound as the band they are or were a part of; Tom Morello was using acoustic guitars as The Nightwatchman, David Byrne made Rei Momo, a samba album, after Talking Heads split. It normally comes as a result of that feeling that they have an amazing idea that's being ignored by the rest. But Hoyas is different. If I were to splice the songs into Bon Iver's albums, there'd be absolute cohesion. The only differences lie in the voice and the electronic thumping sound in the background (a drummer's always going to bring a bit more beats to their side project). I know the perfect way to describe it. Did you listen to the three mixtapes by The Weeknd? It's Bon Iver covering those records. Oh, how I wish I could think of anything other than Bon Iver while I listen to Hoyas but it's sadly inescapable.
That's not to say the album is crap for being incredibly similar. That mellifluous noise that comes with chill wave seeps into the folk background of S Carey to create a tender autotuned hybrid. Strained vocals on Marfa are almost indistinguishable, putting you in mind of Sigur Ros or My Bloody Valentine. The voice becomes another instrument and that slightly optimistic, slightly melancholic backing creates that mood that all indie music aspires to create, that happy sadness. Pretentious oxymorons aside, this EP offers so much promise. Whether it means Bon Iver's third will be perfect, whether it means S. Carey will make an incredible solo album, I don't know.
There are no real standout tracks, it is a four song EP after all and electronica has a slight tendency to blend into one long reverby track. But as a piece, it moves so softly, so deep and so colourful.
22 June, 2012 - 12:47 — James McKenna