Music Reviews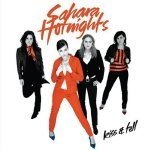 Sahara Hotnights Kiss and Tell
(RCA)
Buy it from Insound

Despite having an unlimited, free forum to air my own views on the subject of music, I remain unable to keep my prejudices, opinions, and tastes to myself. When I'm not ranting about music that irritates me - the radio; the TV; the idiot next-door who listens exclusively to unimaginative US punk-pop - chances are I'm trying to force my latest discovery on a reluctant bystander, usually my long-suffering girlfriend, who's had to withstand a barrage of music over the last four years. In return, she's been patient (except when I tried to put on my very own hardcore compilation), merciful (well, relatively merciful; I've had to endure a number of diabolical Eurovision tunes) and, above all, generous, introducing me to two excellent Swedish bands, Mando Diao and Sahara Hotnights. While this review intends to on the latter of those names, I'd feel guilty if I passed up the opportunity to plug Mando Diao's fantastic debut Bring 'Em In. Check out Sheepdog and you'll see why...
Let's start off with a little background information about my love affair with Sweden's premier all-girl band.
January 2000: I hear my first Sahara Hotnights tune, a sugar-coated power-pop anthem by the name of Quite a Feeling, which instantly fires the group into guilty pleasure territory. While too good to ignore, it's almost too 'pop' to trust, and reluctant to spend import prices on a dud, I choose to ignore its parent album, the band's 1999 debut C'Mon Let's Pretend.
March 2002: My first real opportunity to investigate further arrives when Jennie Bomb drops through my letterbox. While clearly not a classic - "summery, carefree and unfeasibly tuneful" was the rather unfortunate phrase I used to describe it back then - the band's sophomore effort certainly does enough to rope me in.
May 2003: Thanks to a well-timed US re-release, I am able to pick up C'Mon Let's Pretend, which impresses me even more than its Jennie Bomb. In spite of some horrible, arena-esque guitar sounds, it seems to display more variety than its successor. And a little more small town innocence, which is always nice.
And that pretty much brings us up to date. Now, five years on from their debut, the Hotnights are back with album number three, the tantalisingly named Kiss and Tell. With two solid efforts behind them, the dilemma of whether to stick to their punk-ish roots or stride out into new territory (i.e. pop) must have weighed heavy on the Hotnights' collective mindset. After all, four young women from Sweden, brandishing guitars and nonchalantly knocking out feisty pop tunes, must be a marketing department's wet dream. They could quite easily become stars if they wanted to.
So do they? Well, even at first listen, it's quite obvious that most of the material on Kiss and Tell treads the lighter side of the punk-pop divide. Compare the almost polite riffing on Who Do You Dance For? to the frantic, palm-muted guitar work on, say, Alright, Alright; the approach is so radically different that it's hard to believe you're listening to the same band a mere two years down the line. But this isn't a bad thing; it soon becomes obvious that the Hotnights are doing this for the right reasons.
The major difference here is that rather than filter all of their increasingly complex musical ideas through the punk-rock template that has characterised - and perhaps weighed down - their last two outings, Sahara Hotnights have integrated ideas from the new wave era and, in particular, bands like Blondie and the Go-Go's. While some cynics might accuse the quartet of polishing up their rough edges with one eye on the pop charts, I'd disagree. They're merely making progress. And even in this less than punk-rock form, they still wipe the floor with American counterparts like The Donnas.
Along with the dampening down of the guitars, the welcome addition of the Asplund sisters' backing vocals and the improvement of Maria Andersson's lead vocals are probably the most noticeable sonic changes. It's a more subtle difference, but the overall musicianship is better than on previous outings, too. Of the songs themselves, lead single Hot Night Crash and Walk on the Wire, the album's heaviest moment, are definite standouts. Nerves is pretty interesting, too, where as Keep Calling My Baby, the closest thing resembling a ballad here, offers the Hotnights' best chance of a radio hit. The album's only weak moment is the regrettably pedestrian Stupid Tricks, the one song that would really have benefited from the omission of backing vocals. Come to think of it, Difference Between Love and Hell isn't too clever either. Still, nine out of eleven isn't bad at all.
Although Kiss and Tell doesn't quite match the dizzy heights of its major influences, it is without a doubt Sahara Hotnights' finest album to date. Regardless of whether they ever surpass it, there's enough quality here to suggest that their career as a credible and enthralling pop act is only just beginning.
27 August, 2004 - 23:00 — David Coleman