Music Reviews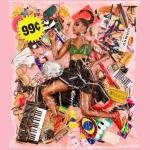 Santigold 99¢
(Atlantic)

Splayed on a pink backdrop cluttered with tawdry trinkets, Santigold lies like a doll on the cover of 99¢, literally packaged in plastic. It's an artistic statement, of course, one that she punctuates with a yellow sunburst displaying the diminutive title of her third album. 99¢ decks itself out with promises—a promise to invest every track with effortless electronic profundities, a promise to be as eclectic sonically as the array of objects on the cover. If there's one power Santi White knows how to wield, it's the power of melding her visuals with her music, and even when the results don't quite mesh, we feel cooler just to have listened to the woman who stormed the scene in 2008 while primly puking glitter on the cover of Santogold.
Despite its cover and title, 99¢ is no concept album. Those anticipating a lyrical commentary on consumerism or an ironic embracement of cheap fun will be disappointed. Not for very long though—99¢ hits all the right synth keys, concocts the stickiest melodies, and strategically presents its twelve tracks as self-contained little shots of musical stimulants. Remove the four or so songs that never seem to do more than bubble happily in an unambitious realm of chanted hooks and rehearsed quirkiness, and the result is an album fit for anyone with the slightest predisposition for fun. Santigold allows her "coolness" acumen to seep into the production, substituting a foreseeably generic electro-pop palette for smatterings of eccentricity, just enough to give her album a face and voice of its own. Consequently, 99¢ is a triumphant mixture of intelligence and accessibility, a pop album that commands attention without depending on it.
The best tracks see her push the limits of her eccentricity. Lyrically, Big Boss Big Time Business is a grooving reiteration of Destiny's Child Independent Women, Pt. I, but production-wise Santigold hits the spot with a concussive bassline and some sassy "hey hey hey hey" yaps that open the song. Who Be Lovin Me (released as a single late last year) swirls over the chill thump of an 808 and trap-style hi-hats. Together, Santigold and ILoveMakonnen face each other off in the most charismatic posturing session possible: "So tell me dear / what's it gonna be / 'cause I got girls around the world who be lovin' me." The album finishes off strong with Run the Races and Who I Thought You Were, the former with Santigold's hard-hitting hoo-hoos and the latter with her pairing of synth fanfares and sweetly insolent lyrics: "I knew you when you were just rude / I knew, I loved your attitude."
At the end of the day (or night), this is music for the young. But unlike other pop records crafted for such a purpose, 99¢ doesn't pander to a caricatural demographic of drunk and dumb kids. On the contrary—the music of 99¢ understands the mentality of the young, and knows better than to insult their intelligence. Between the ideas and the sound, Santigold knows exactly what she's doing.
29 February, 2016 - 04:00 — Luiza Lodder