Music Reviews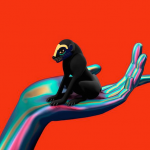 SBTRKT Wonder Where We Land
(Young Turks)

Some people are insanely good with music production software, and although he may try to hide behind various tribal masks, Aaron Jerome has been exposed as one of them. On his 2011 debut LP as SBTRKT, he composed dark, grimy post-dubstep arrangements and enlisted a cadre of collaborators to stamp a unique imprint on each. The album was successful enough to catapult Jerome to prominence as a producer toeing the line between pop and experimentalism, but most of the buzz resonated around a few specific cuts that were absolute gems.
Those standout tracks shone with skilled, intricate production, varying rhythms, moody aesthetics, and a very broad palette of sounds. Yet realistically, the same could be said of every song, ordinary and extraordinary alike. In truth, it was the synergy derived from collaborations that punched choice tracks through the proverbial mold. It was the sensual, morphing synth line melding with Little Dragon's smoldering vocals that ignited Wildfire. It was the haunting, pulsating chords that channeled Sampha's "ghoulish entities" in Trials of the Past. When Jerome identified and aligned his instrumental aesthetic with the emotive output of his guests, the results were amplifying and electrifying.
Now SBTRKT's sophomore release is on deck, and with Jerome's production talent a given, its degree of success will be measured by its ability to recreate that synergistic magic. Lead single NEW DORP. NEW YORK., at least, has the makings of a hit. Featuring Ezra Koenig with his trademark staccato delivery, Jerome fashions a bouncing bass-heavy backbeat to accentuate the curt lyrical phrasing. The combination energizes and personifies Koenig's "girl" who strides through the city's boroughs as if they're under her command. The album's title track also shows strong, with a melancholic piano progression tracking Sampha's recollection of being "thrown up in the air," amid a burst of spacey boops and beeps.
Beyond those tracks, SBTRKT's alchemical formula generally fails to come up gold. Look Away plunks along like someone rolled an upright saloon piano into a hazy Eastern opium den. It's a smoky and atmospheric soundscape, but Caroline Polachek (of Chairlift) brings lyrical non-sequiturs and a swooping melody that fails to be even remotely complementary. Raury's rapid-fire rhymes bear some emotional gravitas on Higher, but Jerome's rolling arpeggios and sinister bass line muddies the effect. In these instances, and elsewhere throughout the set, lead remains lead.
So continues the hit-or-miss songcrafting that's becoming as attributable to SBTRKT as the distinctive multi-colored masks. Even Jerome himself appears submissive to the force of inconsistency: a tiny animal in the palm of its enormous iridescent hand. And as a title, Wonder Where We Land couldn't be more appropriate. The answer is somewhere safe, both viable and habitable, but lacking in exhilaration and wonder.
1 October, 2014 - 04:23 — Benjamin Jones