Music Reviews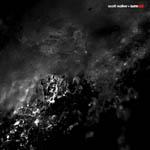 Scott Walker + Sunn O))) Soused
(4AD)

"AH! The wide Missoouri… Dwellers on the bluff…"
Brando: The sounds of frontier-ist glory, a red herring that perks up the ears and momentarily rests any notion of aural mistreatment at the hands of Scott Walker and Sunn O))). That rest is almost immediately canceled out, the slow hands of Stephen O'Malley and Greg Anderson acting in synchronized windmill as the chords are struck and the dread is realized. With the pulse of a synthesizer and two cracks of a bullwhip, Walker states in his eerie register, "A beating would do me… a world of good." An abrupt guitar sound strikes; the pulse grows; the amps breathe. Tension, Walker, drones and theatrics: This is Soused.
With a sound akin to throat singing or ritualistic chant, Sunn O)))'s (O'Malley, Anderson and Tos Nieuwenhuizen) droning colossus provides a sonic slate which has over the course of the group's existence found limitless function for many collaborations, (Ulver and Sunn O))) released one such collaboration, Terrestrials, earlier this year). Aside from being a pure reverberating enormity that they endeavor to amass, Sunn O)))'s sound is also malleable, versatile. It took on an almost orchestral shape for their 2009 masterpiece, Monoliths & Dimensions. It was for this album that Walker, the 1960s psych-pop singer turned ultra-eccentric vocal surrealist, had been approached to participate by the band. And though Walker was unable to fulfill the wishes of the very hopeful Sunn O))) at that time, he instead did them one better and proposed a partnership through rough demos he'd delivered for O'Malley and Anderson to ponder. Soused is the result, 5 darkly conceived tracks all brimming with a restless intensity driven not only by the compelling sounds Sunn O))) manifest, but by its design overall. While Sunn O)))'s presence obviously informs much of what you'll hear sonically, Walker has provided the base, and his longtime creative partnership with musical director Mark Warman and producer Peter Walsh impacts how his compositions are arranged. Consequently, Soused sounds like a musical progression for Walker in some ways, more of a follow up to his 2012 LP, Bish Bosch, albeit infused with metallic drones, than a purely collaborative venture.
But, this is also due to Walker being a dominating presence. As a vocalist, his love of thorough detail ("The nurseries and crèches are heaving with lush lice/Bubonic, blue-blankets, run ragged with church mice.") and double-take simile ("Leapin' like a River Dancer's nuts") are addressed through his uniquely sinister voice, an aged flamboyance so temperamental and strange that it requires a backdrop that's schizophrenic enough compositionally to fit his words. Few artists could've pulled off something as purposefully disjointed and oversaturated as Bish Bosch, and here at a collaborative capacity Walker's influence has significant prevalence. And, at 71 years of age!
However, as it's delivered like a truncheon of eternal length and obsidian heft, O'Malley and Anderson remain an immersive component to Soused, not to discount the synthesized accents that Nieuwenhuizen contributes. The muck-thick mutations every strum brings to fruition in Herod 2014 for instance really enforce Walker's shattered characterization, his words dressed in tragedy, housed within a mausoleum of gargantuan tone. The trail of endless wailing sounds that follow the otherwise percussive Bull ("Fire ant necklace") is somehow calming and meditative next to the track's initial aggression. From this standpoint, it's as if Sunn O))) isn't there to intensify, but instead implement a means of concentration, a lasting and consistent factor that remains unmoved by Walker's shifts in mood and manner.
That being said, the subtle raunch and industrialized clangor of Fetish synthesizes well the idiosyncrasies of its performers. When that first bass riff momentarily steps in, it's a welcome shock, and the song's aggression only increases as low end quakes and rushes of drum sounds are introduced, accented by shrieking synthesizer noises and trumpet blasts. There's a buzz and howl to this track that borders the post-punk realm, especially when the song tries rhythm out for a bit, hitting a level stride you can almost nod your head to.
Borrowing from composer William Byrd's Lullaby (My Sweet Little Baby), Soused ends with a Lullaby of its own, a captivating final few minutes of tension driven by rhythmic effects and layers of soft, though severe, tone. The chorus is a very sudden and grand collision of instruments, dueling guitar sounds and Walker's exerted throat, "LULLABY! LA! LA!" The antithesis of a song meant to induce rest, instead nerves come alive as the ensemble delivers its final act.
Is it huge? Yeah, it's a big motherfucker. Soused, with its impenetrable construct and heavy ambition, delivers on many fronts, most notable of which is in its thoughtfully composed immensity. While I don't think Walker and Sunn O))) achieved this to the level Swans did earlier this year with To Be Kind, this marriage of similarly bleak musical outsider art works without being too predictable. And though Walker's signature is scribbled all across much of what you'll hear, there's enough intervention from O'Malley and Anderson to conclude that this was a diplomatic creative relationship.
And, thankfully, only a two-year gap was had between Scott Walker releases. Certainly, this is a win.
28 October, 2014 - 22:57 — Sean Caldwell