Music Reviews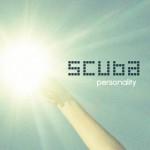 Scuba Personality
(Hotflush)

Where were you in '92? It was a year that saw chart smashes by the likes of Bizzare Inc., Ce Ce Peniston and Snap! amongst a glut of similar acts cashing in on uplifting dance music, transformed from an underground phenomenon to a commercial juggernaut. But more than a mere throwaway M.I.A. hook, the question has seemed increasingly relevant when examining the state of modern dance music. Better-qualified and more articulate men and women than I have penned countless innumerably superior articles on the current revivalism taking hold in the UK scene, so I'll try and limit the waffle; but in a nutshell, those producers and DJs who have been careering forward into untested waters at breakneck pace now do so looking over their shoulders. Random samples and welterweight bass alone no longer cut the mustard, and the myriad of then-innovative sounds of Detroit, Chicago, Berlin and, well, the M25 are being dusted off and reapplied with renewed purpose. The coalescence of house, techno and garage is in full swing and has procured some absolutely fantastic results in the past two years or so.
Personality, while representing this marriage of genres better than most, falls short. Paul Rose, better known as Scuba or even his house alias SCB, is, in relative terms, a seasoned veteran. This is his third studio album (his addition to the DJ Kicks series notwithstanding), coming after 2008's A Mutual Apathy and 2010's lauded Triangulation. He also helms Hotflush Recordings, which has been putting out quality material since day one. Formerly considered somewhat of a dubstep kingpin, albeit one whose work was techno-flecked and brooding in nature, a lot of fuss has been made over Rose's shift towards a more dancefloor-ready sound. The most significant sign of light filtering through the moody clouds came on last year's Adrenalin EP, which contained some of the most eminently danceable music to see release in 2011. The title track notably provoked consternation amongst some fans – after all, it evoked the sort of peak-time trance that Chicane used to make – but it was largely welcomed with open arms and there has since been a palpable buzz for Personality, which intensified in the wake of The Hope being unveiled. I say 'intensified' as opposed to 'increased' because The Hope proved even more divisive than Adrenalin. It makes perfect sense for it to be the first cut off the record, as it comes as close to a single proper as Scuba has ever produced – it is, in no uncertain terms, a big-room banger. Synth stabs permeate a hot and heavy atmosphere, like lasers cutting through a thick blanket of smoke in a club, as infectious vocals plough through an array of hedonistic pleasures in a vaguely obnoxious manner. But it's a red herring: largely, Personality is not quite the dancefloor-igniting record that was expected, though nor is it a mere rehash of previous work – it is the sound of Rose exploring a variety of styles without successfully nailing any of them.
There are a handful of themes that run concurrent throughout the album. Firstly, the interplay between the vocals and the music is deeply in thrall to that aforementioned early 90s sound – take opener Ignition Key, a filter-heavy house number where synths zap around like synapse impulses while a female voice contently 'ooh's away in the background. But it can be hit and miss: on one hand, NE1BUTU is all big piano chords and cloying vocals, decent but by-numbers; on the other, penultimate track, Tulips, is gentle and contemplative, fluttering with the faintest of touches and deploying the faceless female to great effect. Another factor that connects some of the tracks is how driven and focused they are. That middle ground between techno and traditional dubstep is still present on Personality, only this time modified to showcase new dimensions to Scuba's sound. Gekko introduces a strong Germanic influence, hitting hard with a four-to-the-floor beat and an industrial feel, and Cognitive Dissonance has a skittering backbeat not a million miles removed from drum 'n bass, complemented by washes of synth of the ilk that fellow Berlin expatriate Kuedo made his own on last year's Severant. But it all comes across as faintly hollow and soulless, and many of the tracks on show here meander when they should soar, bubbling away pleasantly but hardly making much of an impact, especially in the first half hour.
This is not a bad album. Paul Rose is a talented producer who knows his craft inside out, a masterful architect who sculpts intricately layered, metallic structures; this time round, the grey beams and dimly lit corners are illuminated by flash floods of colour and clarity, and the wide spaces are filled out with supplementary elements such as the vocals and effects. The closing third stands up with the best of Scuba's output, reminiscent in parts of the new Burial EP, and if treated as a continuous mix it fares better than by pulling apart the individual components. But I can't help but shake the fact that some of the excitement that came with the Adrenalin EP has been lost, representing somewhat of a step backwards. While attempting a transition to make floor fillers without abandoning his trademark sound, we find Scuba standing awkwardly with one foot in either camp, and it makes for a listen that feels incomplete. The album begins with a sullen diatribe in which Rose laments the lack of personality in modern dance music, but going on this evidence it isn't abundantly clear if he knows what his own is.
13 March, 2012 - 12:30 — Gabriel Szatan